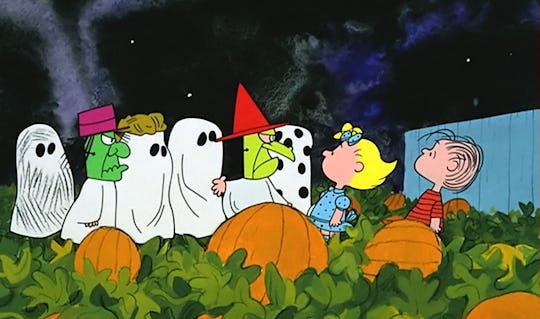 CBS
The One Detail You Never Noticed While Watching 'It's The Great Pumpkin, Charlie Brown'
For over 50 years, It's the Great Pumpkin, Charlie Brown has been the go-to Halloween special to watch for both adults and kids. No matter how many times people have seen it, they still return each year to watch it again when October rolls around. Despite the number of times you may have seen it, I'm sure there's one detail you never noticed in It's the Great Pumpkin, Charlie Brown.
During the episode, Linus spends most of the night in the pumpkin patch, waiting for the "Great Pumpkin" to arrive. The Great Pumpkin is a mythical creature, similar to Santa Claus and the Easter Bunny, so most of the Peanuts gang doesn't believe he really exists. However, Linus is out to prove them all wrong. But the only one willing to sit outside with him is Charlie Brown's younger sister, Sally, who has a not-so-secret crush on Linus.
While Linus spends the night in the pumpkin patch, the rest of the Peanuts gang goes out trick-or-treating and then heads to a Halloween party, the first one Charlie Brown has ever been invited to. But before all of that excitement goes down, there's a point where Lucy is seen reading a TV Guide while sitting in front of the television screen. If you look closer you can actually see that it's Lucy herself who is on the cover of the popular magazine.
Jeff Greenstein, who has written and produced for shows like Friends, Parenthood, Will & Grace, and more, pointed out the detail back in 2014 on Twitter, but I'd never picked up on it until this most recent viewing — and I'm sure I'm not alone. Though the detail is small, it gives the cartoon a bit of a meta feeling. Is Lucy watching herself on the TV, now that the popular comic strips she was first created for have made it to the small screen? Or was this just creator Charles M. Schulz little nod to the fact that his cartoons were airing on TV now?
Unfortunately, we may never know since Schulz died back in 2000. Whatever the reasoning behind the small detail, it's a cute little Easter egg that only devoted fans of Schulz probably will notice. However, now that you know it's there, you could probably spot it when you watch It's the Great Pumpkin, Charlie Brown next time.
This year, the special will be airing twice on ABC. The first time will be this Thursday, Oct. 19 at 8 p.m. EST. However, if you want to watch the special closer to Halloween, the network will be airing it again on Sunday, Oct. 29 at 8 p.m. EST. The second viewing will be a bit longer because it will also include the bonus cartoon, You're Not Elected, Charlie Brown. The extra cartoon shows Linus and Charlie Brown, as well as Russell Anderson, going head to head to win the "Student Body President Election."
If you can't watch it live on either of those days, or would prefer to see the special on Halloween, you also have a few options. Of course, you could just DVR the special so you can watch it later. However, if you don't have cable, the specia — which is only a half hour long in length — can be found on YouTube, iTunes, and Amazon Video, although you won't find it on any streaming sites. The DVD is also available for purchase on Amazon and most online retailers. If you plan on watching It's the Great Pumpkin, Charlie Brown every year, you might as well buy the hard copy, that way you'll already have it to watch again and again each year.
No matter how you watch, It's the Great Pumpkin, Charlie Brown is the perfect special to get you in the Halloween spirit. Whether you've seen it a million times or you've never seen it before, it's definitely worth a proper viewing.
Watch Romper's new video series, Romper's Doula Diaries:
Check out the entire Romper's Doula Diaries series and other videos on Facebook and the Bustle app across Apple TV, Roku, and Amazon Fire TV.