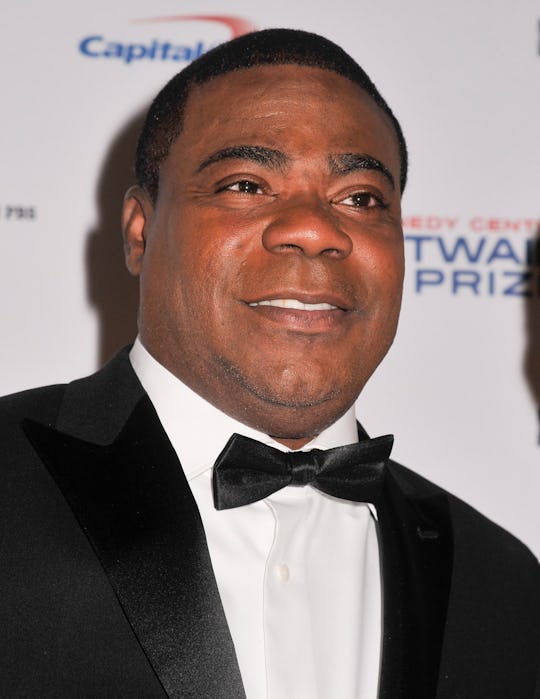 Kris Connor/Getty Images Entertainment/Getty Images
The Oscars Montage With Tracy Morgan, Leslie Jones & Whoopi Was Bitingly Hilarious
Chris Rock was going in from the moment he first came out at the 2016 Oscars, hesitating for exactly zero seconds to address the #OscarsSoWhite controversy that dominated conversation about this year's awards. But it was the Oscars montage with Tracy Morgan, Whoopi Goldberg, and Leslie Jones that got the point across in the most hilarious and biting way.
After discussing the dearth of good roles for black actors in his monologue, Rock introduced the painfully funny segment by saying that, if you're an actor and a person of color in Hollywood, getting any good part in a movie can be a struggle. Cue the mashup of black actors like Morgan, Goldberg, and Jones slotted into the scenes of white Oscar-nominated actors, and the result was, of course, amazing.
First came Goldberg, mopping the floor behind Jennifer Lawrence's character in Joy as she tries to film an infomercial. "Maybe one day they'll make a movie about a skinny white lady who invented a mop," she says. "Of course, a black girl would have to invent the cure to cancer before they even give her a TV movie."
Next, Jones fills the role of the bear mauling Leonardo DiCaprio in The Revenant, while screaming "There are no black actresses in this movie! My agent called you twice, then I called you 16 times. You should have called me back."
Next up was Tracy Morgan as The Danish Girl, which I can't even properly do justice because it is so amazing.
And last was Chris Rock himself filling Matt Damon's role in The Martian, joking that they would have just left a black astronaut up there.
This montage is pretty much a comedic masterpiece, in my mind. It takes a delicate issue and uses a comical premise to highlight its absurdity — though the lack of opportunity for actors of color is no laughing matter.