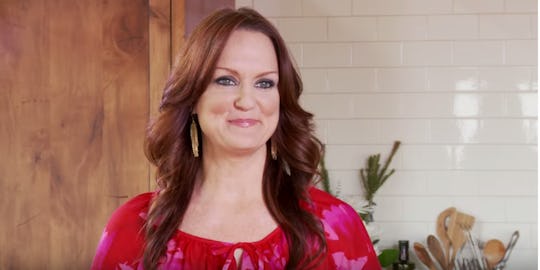 Ladies' Home Journal/YouTube
The Pioneer Woman's New Food Line At Walmart Will Level Up Your Holiday Meal
If you want to channel Ree Drummond in your kitchen — without actually having to spend hours preparing meals this holiday season — then I've got some good news for you. Drummond, the Food Network star who is more widely known as the Pioneer Woman, now has her own line of signature dishes at a store you likely already visit frequently. Along with her adorable Instant Pot, cookbook, small kitchen appliance line (and even her very own Barbie doll) you'll be able to take Drummond's signature tastes home with you from Walmart. And the Pioneer Woman's new food line at Walmart will definitely help make your holiday merry and bright.
Yep, that's right! Customers can now enjoy a selection of Drummond's easy-to-prepare entrees, sides, and breakfast bowls, according to Today. And the best part? They're all under 7 bucks. "My number one goal with my new line of entrees and sides is to give folks a taste of my family's favorite dishes, all ready to heat and serve," Drummond said in a news release. "For those times you're rushed or just don't have time to prep and cook food from scratch… this is the next best thing!"
As Drummond told Delish, she started with her "go-to comfort foods" when she set out to create her new line. Which is exactly why country fried steak and meatloaf are two of the entree options. "I feel solid about them, and I know a lot of people will love the flavors and textures," she told the publication in November. Her side dish offerings will include mac and cheese, as well as loaded mashed potatoes. Honestly, just typing those words makes my pregnant self scream, "Get in my belly!"
And don't worry: Ree's got you covered for a quick a delicious breakfast, too. That's because her line will feature three different breakfast bowls: Tex Mex, Country Breakfast, and Meaty Breakfast, according to Today. Simply add an egg or two in with the mix-ins, heat it all, and bam: Breakfast in no time flat. Basically, if you're willing to spend 3 bucks and have an egg on hand, you'll be getting a Drummond-worth breakfast without the trouble of making it from scratch. Because with kids underfoot and places to be, who has time for that nonsense during the morning rush?
And hey, while you're add it, Ree Drummond also recently released a new line of small kitchen appliances at Walmart. As People reported, the collection debuted on December 3 and features the following: A $35 food chopper, $38 toaster, a $25 set of 1.5-quart slow cookers, an $30 electric kettle, a $25 hand mixer, and a $35 7-quart slow cooker. You know, for when you actually have the time and energy to tackle those home-cooked meals.
Basically, there's a Pioneer Woman gift for everyone this holiday season. Whether it's this Pioneer Woman Barbie play set ...
Or this floral Instant Pot.
One thing's for sure: Ree Drummond's signature dishes from Walmart will be making a debut in my kitchen sometime in the near future. And her easy-to-make meals will certainly help make anyone's busy, rushed weeks leading up to Christmas merry and bright.
This first-time mom wants to have a home birth, but is she ready? Watch how a doula supports a military mom who's determined to have a home birth in Episode One of Romper's Doula Diaries, Season Two, below. Visit Bustle Digital Group's YouTube page for the next three episodes, launching Mondays in December.