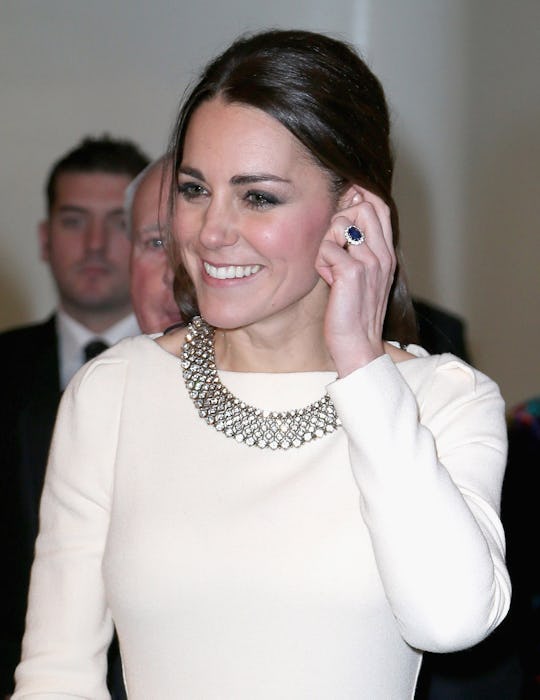 Chris Jackson/Getty Images Entertainment/Getty Images
Kate Middleton Has Princess Diana's Stunning Engagement Ring Thanks To Prince Harry
Kate Middleton, Duchess of Cambridge has been wearing Diana, Princess of Wales' engagement ring since the day Prince William, Duke of Cambridge proposed to her in October 2010. However, the iconic sapphire engagement ring actually first belonged to Prince Harry, Duke of Sussex after Diana's death. So how did the ring wind up hidden in Prince William's pocket? As it turns out, the reason Kate Middleton has Princess Diana's engagement ring is so sweet.
In the Amazon Prime documentary The Diana Story, Princess Diana's former butler Paul Burrell opened up about the two princes choosing items from their mother's jewelry collection after her 1997 death. As Express reported, Burrell recalled telling Prince William and Prince Harry, "Take something which belonged to her that you can keep safe. What do you want William?"
Prince William, who was 15 when his mother died, asked for a watch that Diana's father gave her. "I'd like mummy's Cartier watch, the one that Grandpa Spencer gave to her for her 21st birthday," Burrell recalled Prince William saying, according to Express. Then, Prince Harry requested the ring. "I remember when I held mummy's hand when I was a small boy and that ring always hurt me because it was so big," Burrell recalled a young Prince Harry telling him.
Thirteen years later, when Prince William was preparing to propose to Middleton, Prince Harry said to his brother, "Wouldn't it be fitting if she had mummy's ring? Then one day that ring will be sat on the throne of England," according to Burrell, as Cosmopolitan reported.
So it seems like the reason Prince Harry gave Prince William the ring is so that it will one day it will be worn by the queen consort — which Princess Diana was in line to be as the wife of Charles, Prince of Wales.
"Harry gave up his precious treasure. His one thing he kept from his mother, he gave to his brother," Burrell added in the documentary, as Brides reported. "That's selfless, kind, and exactly who Diana was."
In Prince William and Duchess Kate's post-engagement interview, the Duke of Cambridge explained why he ultimately chose to give Kate the ring. He said in the interview, as reported by People: "Obviously, she's not going be around to share in all the fun and excitement, so this is my way of keeping her close to it all."
Luckily, Prince Harry found another meaningful way include a piece of his mother in his engagement ring for Meghan Markle, Duchess of Sussex.
In Prince Harry and Duchess Meghan's post-engagement TV interview, the Duke of Sussex revealed that the two smaller diamonds on either side of the larger diamond came from Diana's collection. Additionally, he explained that he sourced the center diamond from Botswana, the South African country where Harry and Meghan vacationed at the start of their relationship, and that he chose a yellow-gold band, which is Markle's favorite, according to Business Insider. Additionally, The Telegraph reported that Prince Harry designed the ring with jewelers Cleave and Company.
So even though Duchess Meghan is not wearing Princess Diana's engagement ring, which perhaps a 12-year-old Prince Harry envisioned proposing with one day, it seems like the ring he chose is just as meaningful for the couple.
After experiencing a traumatic c-section, this mother sought out a doula to support her through her second child's delivery. Watch as that doula helps this mom reclaim the birth she felt robbed of with her first child, in Episode Three of Romper's Doula Diaries, Season Two, below. Visit Bustle Digital Group's YouTube page for more episodes, launching Mondays in December.