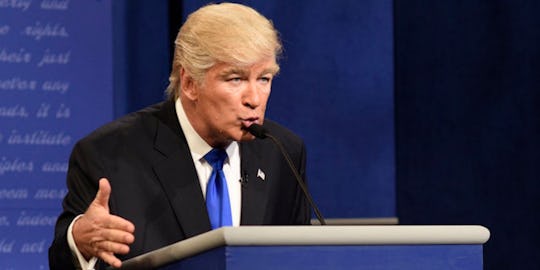 NBC
The 'SNL' Cold Open About Trump Tweeting Perfectly Describes His History With Twitter
Just because president-elect Donald Trump is several weeks away from being sworn into office, it doesn't mean that Saturday Night Live is done with him yet. In fact, it's probably just getting started, which is why the SNL cold open about Trump tweeting was the perfect way to address his apparent real life love of Twitter. The cold open began with a typical high school student being scolded by his teacher for checking his Twitter while in class. But, as it turned out, Trump had re-tweeted him. The skit cut to Trump with his advisers, giddy over being tweeted at in general and assuring everyone that "this is real."
In real life, Trump has been notoriously present on the social media site, tweeting about everything like it's his job (spoiler alert: it's definitely not in the job description of the future POTUS to be an avid tweeter), mostly as a way to engage with both supporters and naysayers. In the SNL cold open about Trump tweeting, Alec Baldwin's Trump said that he gets so giddy over interacting with supporters on Twitter because he just can't help it and that: "I do it because my brain is bad."
In the skit, Trump goes on to re-tweet a blue collar supporter and then a super anti-liberal guy. And it was kind of like art intimidating life.
From using Twitter to demand an apology for the backlash his soon-to-be vice president Mike Pence got after attending a performance of Hamilton to continuing to almost campaign for himself, Trump is a constant presence on Twitter. So much so that SNL's skit about Trump re-tweeting was almost scary accurate. I mean, there probably aren't high schoolers freaking out mid-class about his tweets, but it's got to be pretty close.
Now, these days social media is kind of everything and enables celebrities to reach their fans on a much more personal level, so in a way, you can't really blame Trump for utilizing this tool for his own supporters, but at some point you just have to wonder if he really is sitting in meetings with his phone out, constantly distracted by tweets and stopping in the middle of said meetings to answer his followers.
The highlight of SNL's cold open about Trump's Twitter habits, though, was the appearance of the grim reaper, Trump's chief executive campaign officer, who apparently showed up late to a meeting with Trump. Because you can't have a Trump cold open on SNL without covering all of your bases.