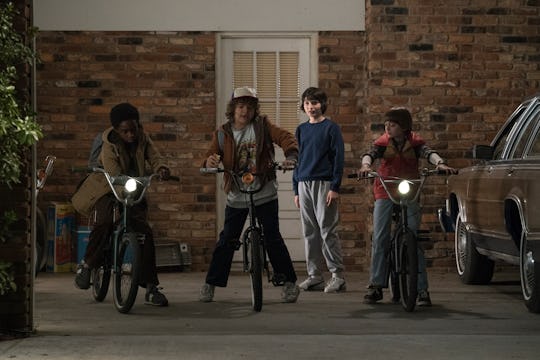 Curtis Baker/Netflix
The 'Stranger Things' Kids React To The Golden Globe Nomination, & It Will Make Your Day
Whenever stars get nominated for a major award, they always say things like, "Oh I didn't even know until my assistant's assistant told my hairstylist who told me," which I've always suspected was a lie. Kids, however, have no need to be cool. The Stranger Things kids react to the Golden Globe nomination exactly the way you would expect any human to react, and it is so darn cute it will completely make your day.
In a tweeted video from the official Stranger Things Twitter account, the four boys — Finn Wolfhard, Gaten Matarazzo, Caleb McLaughlin, and Noah Schnapp who on the show play best friends Mike, Dustin, Lucas, and Will — are seen exactly as you or I might be were we up for a major nomination. They are huddled together on a hotel couch in their pajamas, holding their breath and crossing their fingers while the nominations were being announced live. Stars, in general, may not actually be "just like us," but I sure can identify with the excitement of ten and eleven-year-old television stars. Their excitement when Stranger Things was announced as a nominee for Best Television Series - Drama will absolutely melt your heart. The only thing I got this excited for in fifth grade was Battle of the Books. (I killed that competition, by the way).
Don Cheadle is announcing the nominations for Best Drama Series, and even I start to get a little nervous watching their anxious little faces. When they hear him say "Stranger Things" they cheer and jump on the couch and give each other high fives and hugs and my God, I just want to take these kids home with me and let them play video games all day long.
These kids have been winning at the red carpet all awards season long, with their adorable little suits, goofy poses for the cameras, and general undisguised glee at being there and living their best lives. Basically, they have been acting the way I would be acting were I also nominated for all sorts of awards for the first time ever.
The only face missing from the video is Millie Bobby Brown, who plays Eleven. The four boys were just at the Critics Choice Awards in Los Angeles, which is probably why they were all in the same hotel room at 5:30 in the morning. Brown, however, was not present unfortunately. Her character in the show is so serious, it would be fun to watch her jump up and down with excitement too.
Who knows if Stranger Things will win in the end, but I can tell you I can't wait for Season 2.