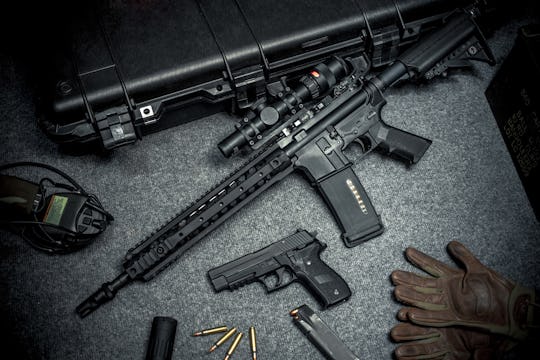 The U.K. Changed Its Gun Control Laws After A Mass Shooting, & Here's What The U.S. Can Learn From It
In 1996, mass shootings in both Australia and the U.K. made the countries reevaluate their gun control laws. While Australia has been used as an extensive example in the media lately when discussing how the United States could effectively reform their laws, there are a few lessons that can be gleaned from the United Kingdom gun reform, too.
The event that sparked the U.K.'s change was actually remarkably similar to the Sandy Hook shootings of 2012, though it occurred about six years earlier. March of 1996 marked a horrible event in Scottish history, when a 43-year-old former Scout leader burst into a Dunblane elementary school gym and opened fire. The incident killed 16 children, all aged between 5 and 6 years old, as well as their teacher, who died trying to protect her students. Two other teachers were also seriously injured before the killer, Thomas Hamilton, turned a handgun on himself.
Hamilton had a permit for the firearms he owned, which left Scotland and the rest of the U.K. turning their questions towards the gun control system. Conservative Prime Minister John Major put into place an inquiry to assess gun control laws and how they could be improved. In 1987, after a mass shooting that killed 13, the U.K. had already introduced legislation banning semi-automatic and pump-action weapons, but Dunblane brought further change, banning all handguns in mainland Britain.
That was followed by a gun amnesty — where people can hand in illegal items without being persecuted for owning them — that returned thousands of guns and ammunition across the U.K. After that, anyone found owning a gun was punished with heavy fines and up to a decade in jail. "It was one of the most shocking things that has ever happened in this country, and it united [us] in a feeling that we had to do something," Gill Marshall Andrews of the Gun Control Network in the U.K. told CNN two years following the Dunblane shootings. "And I don't think that it would have been possible to make the kind of progress that we have made without that tragedy."
Gun control changes didn't end for them after the reform sparked by Dunblane, either. In early November, the European Commission adopted new measures that will ban certain semi-automatic firearms, make it easier to track legal firearms, increase information and cooperation across EU nations, and make deactivated firearms entirely inoperable. The changes were already in motion before the November 13 attacks in Paris, but were accelerated after the deadly terrorist attacks that killed 130 people. "The recent terrorist attacks on Europe's people and values were coordinated across borders, showing that we must work together to resist these threats," Jean-Claude Juncker, President of the European Commission, said in a press release. He added that the EC plans to propose an action plan in the near future that will take on illicit arms trafficking, as well — showcasing the fact that the shortcomings that were flagged during the Paris attack will be dealt with.
The United States has had plenty of shootings in recent years that should be more than catalyst enough to tip them into gun reform. Both Australia and the U.K. serve as examples of how to plan and carry out an effective reform on gun control. With over 355 mass shootings in 2015 alone, let's see if the United States reaches its tipping point. More should come to light after President Barack Obama's address on the issue at 8 p.m. EST on Sunday.
Images: singha103/Fotolia