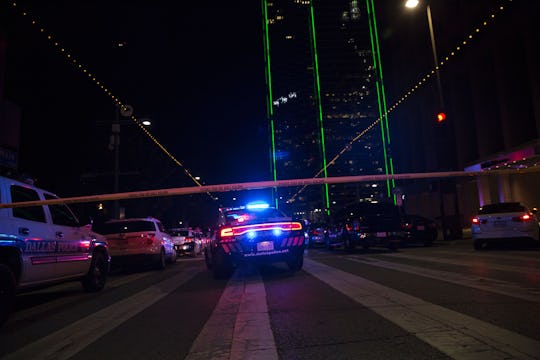 LAURA BUCKMAN/AFP/Getty Images
The Wrong Reaction To The Dallas Police Shootings, Because Black Lives Still Matter
In the wake of the police shootings that rocked Dallas Thursday night, many took to Twitter to express a whole range of emotions they were feeling. For black Americans especially, it had been an enormously difficult week. Two black men were killed by police officers, adding to the long list of similar incidents of police violence heavily publicized over the last several years, and the untold previous incidents that never received any media coverage. Unfortunately, when snipers killed five Dallas law enforcement officers during an otherwise peaceful Black Lives Matter protest Thursday night, many expressed the exact wrong reaction to the Dallas police shootings.
Thursday had been marked by peaceful demonstrations around the country against the scourge of police violence against black Americans. The protests were spurred by two devastating incidents earlier in the week. First Alton Sterling, a black man selling CDs outside of a convenient store in Baton Rouge, Louisiana, was tackled, shot, and killed by police officers there on Tuesday. Then, during a traffic stop, police in Falcon Heights, Minnesota shot Philando Castile in the chest while he remained in his car, killing him. A national outcry followed as both black and white Americans called for justice, noting that these incidents simply do not happen to white people.
But in the wake of the shootings in Dallas in the middle of a Black Lives Matter protest Thursday night, many responded to the officers' tragic deaths in a way that sought to distract from the very real, deadly problem Black Lives Matter formed to address.
As The Los Angeles Times noted, one of the most "provocative" responses came from former Illinois Congressman Joe Walsh, a Republican, who suggested that a statement President Obama released about the deaths of Sterling, Castile, and all of the other unarmed black men killed by police officers prompted the sniper shootings, and that the assailants were "black thugs":
Obama's statement about Sterling and Castile's deaths read:
All Americans should be deeply troubled by the fatal shootings of Alton Sterling in Baton Rouge, Louisiana and Philando Castile in Falcon Heights, Minnesota. We've seen such tragedies far too many times, and our hearts go out to the families and communities who've suffered such a painful loss ...
what's clear is that these fatal shootings are not isolated incidents. They are symptomatic of the broader challenges within our criminal justice system, the racial disparities that appear across the system year after year, and the resulting lack of trust that exists between law enforcement and too many of the communities they serve.
To admit we've got a serious problem in no way contradicts our respect and appreciation for the vast majority of police officers who put their lives on the line to protect us every single day. It is to say that, as a nation, we can and must do better to institute the best practices that reduce the appearance or reality of racial bias in law enforcement.
No information has been released so far about the identity of anyone who may be responsible for the Dallas shootings, so Walsh's description of them as "uneducated black thugs" cannot have been based on any actual information.
The Twitter account for Red State Talk Radio posted a cartoon that also suggested Obama invited the sniper attack:
Some Twitter users called out responses like those, noting how easily blame gets shifted back to black Americans, even in the middle of a nonviolent protest, and expressed fear that the tragedy in Dallas will lead to restrictions on future demonstrations:
Others emphasized that the terrible crimes in Dallas shouldn't distract from systemic problems in law enforcement culture:
Still others pointed out that violence is the real enemy, as seen in both the police deaths Thursday night and the deaths of Sterling and Castile earlier in the week:
With many facts about the Dallas shooting still unknown, including the identities of the assailant(s) and their actual motives, what is known is that many people died unnecessarily this week as a result of racial tension and racially-motivated violence that went unaddressed for years in communities around the country. (Update: Dallas police said Friday that Thursday's shooting was the act of one sniper, 25-year-old Micah X. Johnson, a resident of the surrounding area who had no criminal record. After a several hours long standoff, police killed him early Friday morning with an explosive device mounted on a robot, The New York Times reported.) The brutal and tragic deaths of the police officers killed in Dallas Thursday night don't justify or erase the deaths of untold numbers of unarmed black men at the hands of police, just as their deaths do not justify or erase the murder of police officers. Suggesting that they do gets us nowhere.