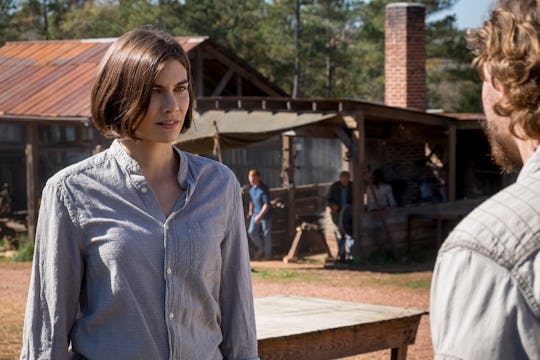 Gene Page/AMC
Maggie Could Return To 'The Walking Dead' Sooner Than Fans Think
Season 9 of The Walking Dead lost some big characters through deaths and voluntary departures, like Maggie and Rick, who were OG characters that had been with fans for years. Rick's send-off made a little more sense, but after the big mid-season time jump, Maggie was suddenly gone, on a sabbatical from her duties at Hilltop. No one knows for sure where Maggie is on The Walking Dead, but after last night's finale, there are some new theories.
The last time viewers saw Maggie, she was about to kill Negan but stopped herself and walked away, seemingly defeated. As much as Negan seems like he's trying to redeem himself, he is the guy who killed her husband, so she kind of had every right to want to get rid of him for good. Instead, Maggie walked away and, eventually, walked away from the communities altogether. Her name has popped up in conversations from time to time in the past few episodes, but no one has given a solid update on her whereabouts. Earlier in the season, someone said that she was with Georgie, the leader of another group, but there haven't been any other solid details.
In fact, in the Season 9 finale, someone mentioned trying and failing to get a message to Maggie. Maybe she's in trouble or maybe she just doesn't want to be found right now. Regardless of where she is or if she will ever come back, fans are still trying to figure out Maggie's whereabouts.