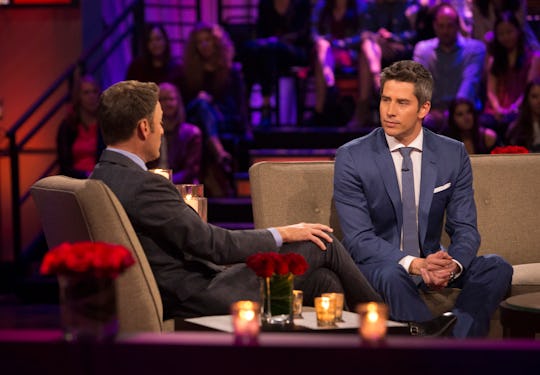 Paul Hebert/ABC
We Need To Talk About Whose Ex Shows Up On 'The Bachelor'
It's been teased since the very first big promo of the season and finally, it looks like fans are going to get to see whose ex-boyfriend shows up to make things extra difficult for Arie Luyendyk Jr. on The Bachelor. But since there's still not much known about who this mystery guy is, there's no time like the present to consider all of the theories about whose boyfriend shows up on The Bachelor to bring added drama at the end of the season. I know, as if there needed to be any more drama than there probably already will be, but still. You can't deny it's an interesting twist to have happen so late in the season.
While there have been multiple promos for the season overall, the same scene that keeps popping up is one that involves an ex-boyfriend showing up in the hopes of winning their former flame back. All you see is the guy from his chest down and hear him telling producers, "No, I don't want to be on this show. I want my girl, I'm here to get her back. I'm here to tell her that I want to marry her." This cuts to a shot of Arie looking distraught and angry over the guy showing up, but since at this point, there are three remaining women on the show. So who did this guy come for?
Right off the bat, I think we can assume that the ex-boyfriend who shows up on The Bachelor isn't from Kendall Long's past. Of the remaining women, she hadn't delved into her past relationships all that much, which leads you to believe that there's likely no unfinished business somewhere.
The way this mysterious ex-boyfriend shows up, intent on not only trying to win back his ex, but also propose to her, makes me believe that whoever he is, his past with the contestant in question is deep and was meaningful at one time. If there was someone like this in Kendall's past, he would have most certainly come up at some point.
This of course brings us to Becca Kufrin, who's been one of the more laid back contestants who also managed to make a serious connection with Arie early on. Earlier in the season, she did mention a serious ex-boyfriend from her past. On a one-on-one date with Arie, Becca opened up about her last serious boyfriend whom she'd had an on again/off again relationship with over the course of seven years and who'd been with her during the loss of her father. She made it clear that although she'd learned a lot about what she wanted out of relationships from him, she also knew she was ready to move on and find that kind of love again.
When it comes to Lauren Burnham, who really didn't get much airtime at the beginning of the season, things get a little dicier for The Bachelor contestant. Because fans haven't been able to learn a lot about her past relationships from date conversations with Arie, it would make an ex-boyfriend showing up that much more dramatic and surprising.
She did reveal to Arie some information about one of her past relationships, but as it turns out, there's a lot more to the story of Lauren's romantic past. "I felt that was something very serious and I was ready for it and I thought he was my person I was going to be with for the rest of my life," she revealed to Arie on The Bachelor this season. "Then as soon as we got engaged, he was cool with not treating me very well. It did affect me emotionally and I'm even more guarded than I was before." It's entirely possible that this is the ex-boyfriend who shows up on The Bachelor.
At the risk of sounding just like Chris Harrison, it's been a seriously dramatic and jaw-dropping season so far, with contestants clashing early on and the Women Tell All special leaving no stones unturned. So regardless of whose ex shows up to leave Arie frazzled, it's going to make for even more drama as the season comes to an end.
Check out Romper's new video series, Romper's Doula Diaries:
Watch full episodes of Romper's Doula Diaries on Facebook Watch.