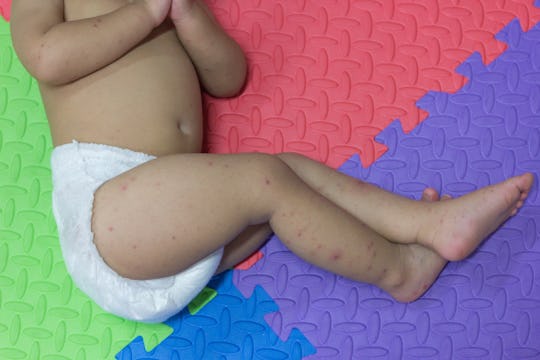 Fotolia
A Measles Outbreak Is Happening In 2 Dozen States Due To Unvaccinated Patients
As scientific research has shown, vaccines have been a vital component of measles prevention. In fact, thanks to vaccinations, the United States was able to suppress the spread of measles to the point that officials were able to declare the preventable illness "eliminated." But with the rise of the anti-vaccination movement in recent years, measles has made a strong comeback. Now, there's a measles outbreak in nearly two dozen states, and public health officials say that most patients weren't vaccinated.
The U.S. Centers for Disease Control and Prevention confirmed in a press release that 107 people have infected with measles in 21 states between Jan. 1 and July 14, 2018, according to WSIL. Broken down, that means that roughly 18 people became sick each month, on average, over a six-month period. And the majority of those people who contracted measles so far this year had not been vaccinated against the disease, WSIL reported.
What's more: The number of measles cases reported in 2018 is on track to outpace totals seen in 2016 and 2017, respectively. Last year, 118 measles cases were reported out of 15 states and the District of Columbia, according to the CDC. In 2016, the CDC documented only 86 cases out of 19 states.
The states grappling with a measles outbreak this year include Arkansas, California, Connecticut, Florida, Illinois, Indiana, Kansas, Louisiana, Maryland, Michigan, Missouri, Nevada, New Jersey, New York, North Carolina, Oklahoma, Oregon, Pennsylvania, Tennessee, Texas, and Washington, according to the CDC. Washington, D.C., was also reported to have measles during that period.
All 50 states have passed legislation that allow for exemptions from school immunizations for medical reasons, and almost all allow exemptions based on religious grounds, according to the National Conference of State Legislatures. But many of those states dealing with a measles outbreak this year have also passed exemption laws that allow parents to opt out of immunization because of personal beliefs — otherwise known as parental choice. Those states include, according to NCSL: Arkansas, Louisiana, Michigan, Missouri, Oklahoma, Oregon, Texas, Pennsylvania, and Washington.
Although only 18 states grant parents the right to opt-out of vaccinations on a philosophical basis, more states are introducing and passing legislation as the anti-vaccination movement continues to balloon, according to STAT News. Yet, while advocates for parental choice consider any restriction on vaccine exemption an attack on freedom, the current measles outbreak proves that immunization critical to children's health and safety.
After all, the United States declared measles eliminated in 2000, according to The Washington Post. But in 2014, the CDC documented a record number of measles cases — more than 660 from 27 states, including in California, where a measles outbreak was connected to an initial exposure at Disneyland that the state's health department linked to a lack of vaccination against the disease.
Measles is one of the leading causes of death among youth, and with the measles vaccine available, there have been a 84 percent drop in measles-related deaths worldwide between 2000 and 2016, according to the World Health Organization. And between that period, immunization against measles prevented an estimated 2.4 million deaths, WHO reported.
Parental autonomy is important, but public health should be paramount when it comes to highly-contagious, potentially deadly diseases that are wholly preventable. This is especially true when living in a country with a broken health care system that keeps millions of families from accessing medical treatments. That could mean that infant who contracts the disease before they're able to receive their vaccines may not survive the preventable illness.
And that leads to an important question: What choice did those parents have?