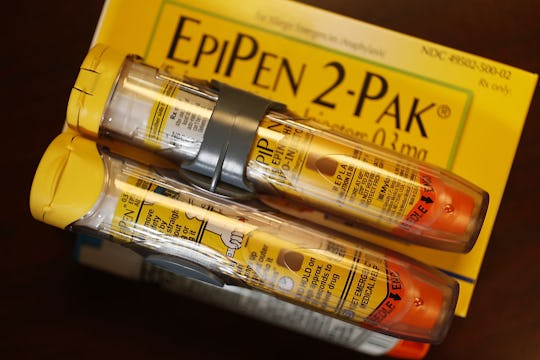 Joe Raedle/Getty Images News/Getty Images
The FDA Wants To Warn You About An EpiPen Defect That Could Put Kids At Risk
Here's a terrifying thought to start your day: You're with a child who struggles with a life-threatening allergy. They have a reaction, they need to use their EpiPen... and you can't get to it. It's not sliding easily out of the packaging. How awful would that be? Unfortunately this situation could well be a reality, as a new FDA warning about the EpiPen is letting parents and caregivers know. And it's a situation that needs to be remedied immediately.
Romper has reached out to Mylan EpiPen manufacturer Pfizer for comment and is waiting for a response.
As the FDA announced in a recent report, a letter has been issued to health care professionals from Pfizer explaining the potential issue with access to the EpiPen and EpiPen Jr: "The purpose of this letter is to inform you that in a very small number of cases, some EpiPen® 0.3 mg and EpiPen Jr® 0.15 mg Auto-Injectors, and their authorized generic versions, may not easily slide out of their carrier tube, which could delay or potentially prevent use of the device during an emergency. EpiPen and EpiPen Jr contain epinephrine, a non-selective alpha and beta-adrenergic receptor agonist, indicated in the emergency treatment of allergic reactions (Type I) including anaphylaxis."
The FDA reports that there was no issue with the auto-injector device or the life-saving epinephrine within. The problem appears to be that some labeling was improperly placed on the auto-injector unit and might impede its quick removal from the packaging. Because the labels were improperly applied, they could become stuck to the inside of the carrier tube.
Now before parents and caregivers start to panic too terribly, it's important to note that less than one percent of auto-injectors were affected by the poor labeling (approximately one out of every 14,286 including the generic versions of the EpiPen). Still, this could be a serious issue if you happen to be in an emergency situation and are unaware of the possibility that the EpiPen might not come out of the carrier tube easily. To find out if you might have an affected product, Pfizer shared the details:
EpiPen® 0.3 mg (EpiPen® NDC 49502-500-02) (Authorized Generic NDC 49502-102- 02) products with the labeled expiry on the device and carton between June 2018 and February 2020.
EpiPen Jr® 0.15 mg (EpiPen Jr® NDC 49502-501-02) (Authorized Generic NDC 49502- 101-02) products with the labeled expiry on the device and carton between October 2018 and October 2019.
If you have an affected product, the FDA recommends that you check take your EpiPen out of its protective carrier to see if it catches on the sticker. If the sticker does catch, you need to take your EpiPen to your nearest pharmacy for a replacement as soon as possible.
Fortunately there have not yet been any reports of someone being hurt by this recent EpiPen warning, but if you have any concerns you should call Mylan Customer Relations at 1-800-796-9526 (Mon.-Friday 8 a.m. - 7 p.m. ET).
It's frightening enough being in an emergency situation where you might have to use an EpiPen. The last thing you want is to reach for it and discover it's not easily accesible.