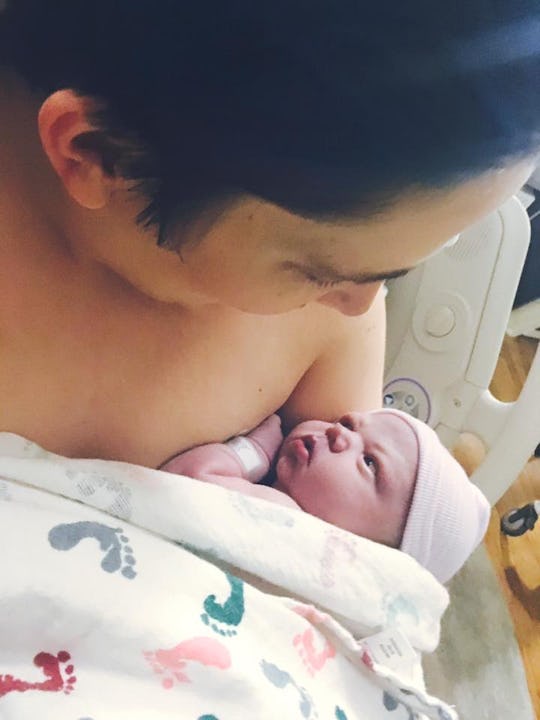 Courtesy of Steph Montgomery
These 11 Moms Talking About The Golden Hour Will Make You Wish You Were Giving Birth
The first hour after my son's birth was one of the most intense, most magical hours of my life. I wanted to hold him close and savor the snuggles, but I was also exhausted, sore, and weepy. Honestly, I really just wanted to be left the hell alone. Once I knew he was OK, though, I was able to relax and the golden hour was just what I needed to welcome my son to the world. In my conversations with other parents, I have heard similar stories about the golden hour and why it's so special, so clearly I'm not alone.
The stories these mothers chose to share were so personal and different. Some described the golden hour being exactly what they hoped for, while others didn't experience an hour that went as planned. Some chose to formula-feed while others breastfed, and some had emergency C-sections while others delivered vaginally. Some of the golden hours described were chill, but others were intensely emotional. Some mothers were able to take their time and enjoy their first hour as parents, and some didn't really get a golden hour at all, but more like a few "golden" minutes to get to know their babies before they required medical care.
While unique, all of their stories seem to share a few common elements — awe, amazement, and pure, unadulterated love. While it's clear that different people had different needs and desires during the golden hour, it's also apparent that it's a pretty special time, no matter how you choose and/or are able to spend it. The following stories were so sweet they almost made me want to have another baby, just so I could meet one of my children for the first time. (Well, not really, but they definitely made my ovaries ache from the sweetness.) Read on for some moments that might make you say "aww" or make you think back to your baby's birth day. Better grab some tissues, just in case.