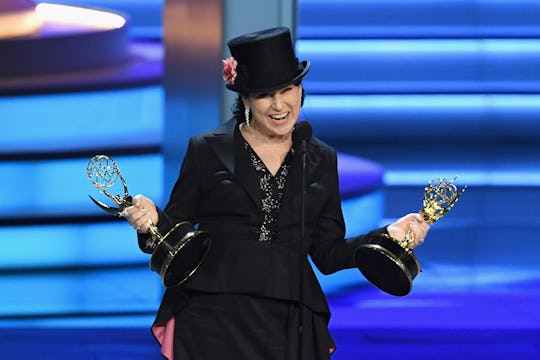 Kevin Winter/Getty Images Entertainment/Getty Images
These Emmy Reaction Gifs & Tweets Perfectly Sum Up The Night
The Emmy Awards can always be counted on for a few notable moments, whether they're political statements, an f-bomb or two, and surprising wins and snubs. The 2018 Emmys were no different and the 13 best Emmy reaction gifs prove just how memorable the night was. While somebody has to lose in every category, many fans were not too pleased with how some of the awards turned out in the end.
For example, Twitter was not happy to see Sandra Oh snubbed for Best Lead Actress in a Drama. Likewise, no one appeared thrilled that The Handmaid's Tale lost in almost every category they had nominations for. I think Season 2 delivered an amazing performance from every actor, so I can definitely see where the fan outrage comes from.
Luckily, the big wins of the night sort of balanced things out. Game of Thrones wasn't eligible for the 2017 Emmys, but they managed to take home the coveted award for Best Drama this year, which was a huge get. And The Marvelous Mrs. Maisel, an Amazon Prime series with just one season so far, basically swept the comedy category, taking home wins for Best Supporting Actress, Best Actress, Best Writing, Best Directing, and Best Comedy Series. Whether you think the awards given out were well-deserved or other shows or actors should have won, there are plenty of Emmy reaction gifs to get you through it.
Game of Thrones may have been ineligible for the Emmys last year, but this year the show came back swinging. And dedicated fans were pleased as punch to celebrate the Best Drama winner as well as Peter Dinklage's award for Best Supporting Actor in a Drama for his now iconic role as Tyrion Lannister.
Fans on Twitter were also super supportive of Ryan Murphy's The Assassination of Gianni Versace taking home the award for Best Limited Series. Darren Criss also won for Best Lead Actor in a Limited Series for his role as serial killer Andrew Cunanan. Anyone who watched the series pretty much agreed that Criss totally earned this one.
For all of the amazing wins, however, there were some significant Emmy snubs that were hard to ignore. Sandra Oh, for example, was the first Asian actress nominated for a lead role in a drama series, and when she didn't take home the win, fans weren't too happy.
Viewers were also disappointed in the lack of people of color among the winners of the night. The Emmys opened up with a song and dance number to poke fun at the fact that although there's more diversity among television shows, there's still a big imbalance. With more white actors, directors, and writers taking home awards than those of color, fans weren't too happy about it.
Others were pretty upset when The Handmaid's Tale was passed over for, well, basically everything. The hit Hulu drama was nominated in 10 different categories and Samira Wiley was the only one to take home an award in her category for Best Guest Actress in a Drama.
For all of the disappointment some TV fans may have felt after the Emmys Monday night, there were still some big moments, like when RuPaul's Drag Race won for Best Reality Competition Program. This was a first for the series, so it was a big deal for dedicated fans everywhere.
When you like almost every TV show out there, it's a little easier to handle the Emmy snubs each year. But in another way, it almost makes you more conflicted. One thing that's for sure is that we are currently in a golden age of television.