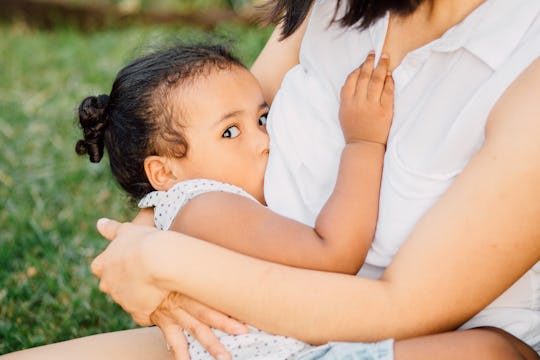 Shutterstock
These 7 Breastfeeding Issues Might Seem Scary But They're Totally "Normal"
I'll never forget the fear I felt the first time I experienced engorgement for the first time. I'd never seen my breasts look so gigantic or feel so hard (and painful!) and, to be honest, I worried it would last forever. Thankfully, my worry was unfounded. But postpartum changes in your breasts can be unnerving, and there are a slew of breastfeeding issues that might seem scary in the moment but are, actually, completely normal.
Romper spoke with Jada Shapiro, a certified lactation counselor, birth and postpartum doula, and founder of boober, a platform which connects expectant and new parents to expert pregnancy, birth and postpartum care providers, to better understand the common breastfeeding issues that lactating parents often face. While it can be easy for new parents to get lost in an endless sea of WebMD searches and terrifying posts from other parents looking for guidance, knowing what to expect before you begin nursing can help you better manage your expectations and prepare you for a potentially-scary-but-ultimately-typical situation.
If you've never nursed before, it's often difficult to decipher typical situations from the "time to call the doctor" situations. So if you've found yourself, for lack of a better phrase, "freaking out" over the state of your nursing boobs, have no fear: you are not alone. And if you are experiencing any of the following, while your feelings are valid you should know that your experience is typical (and there are people who will help you!).