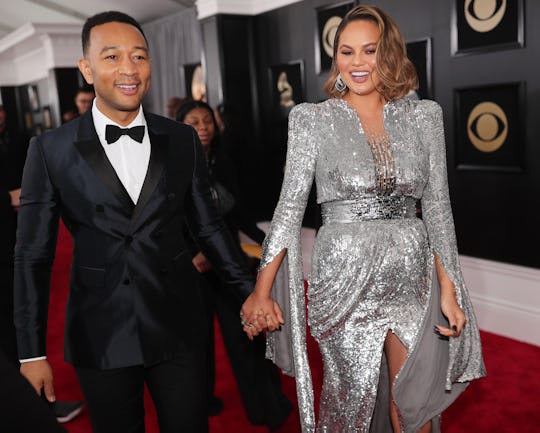 Christopher Polk/Getty Images Entertainment/Getty Images
These 7 Celeb Dads Helping Their Pregnant Partners Will Give You Heart Eyes
The other night my husband and I were sharing our excitement about the news that one of our good friends is pregnant and Dan said, "There is just something so specifically amazing about a woman who is carrying a child." And, first, I was like, OK, you are pretty awesome and I will keep you. But then I couldn't help but agree a gajillion times over. After all, there really is something so uniquely incredible about pregnancy and that's why it's pretty freaking sweet to see these celebrity dads helping their pregnant partners.
Whether it's making sure her cravings are met with an ice cream sundae date, helping her to keep a good sense of humor about pregnancy mishaps, or holding her hand every step of the way during more difficult pregnancy moments, like IVF treatments, there's one thing for sure: these celebs have some pretty awesome partners at their sides.
After all, pregnancy is amazing and hard — and sometimes amazingly hard. Having the right person at your side can surely make it all more exciting and, sometimes, more tolerable. Of course, if you are going through that phase where you hate everything about your significant other, then the most supportive thing they can do is simply step aside.
And that's pretty awesome, too.