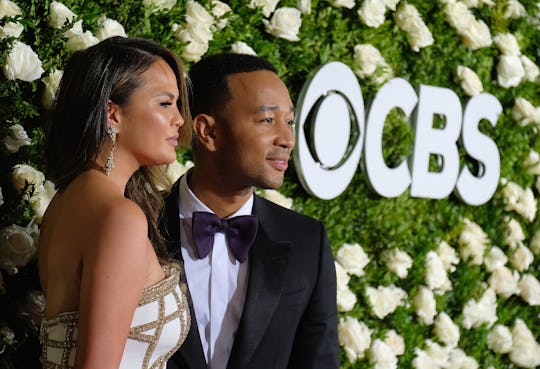 Jemal Countess/Getty Images Entertainment/Getty Images
These Celebrity Parents Used Social Media To Condemn Hate & Violence
The violence that erupted in Charlottesville, Virginia on Friday night and Saturday was horrifying to watch, but somehow not all that surprising given the history of racism and slavery in the United States. The hardest thing for some people, it seems, was to explain what was going on to their kids. Where to start? For any parent feeling a little confused out there, you're not alone. In fact, these celebrity parents' reactions to such racial tensions show that watching racial violence play out on the news is awful for everyone.
Some celeb parents remained quiet for the first few days, unsure of how to use their platform. Others encouraged people to get out and protest the violence and be a role model for children. Blake Lively asked in an Instagram post, for example, "Don't you want to tell your kids where you stood?"
Many celebrity parents reacted to the response of President Donald Trump to the situation, in which he alleged that there are "many sides" to what happened in Charlottesville. Most celebs insisted that the president was wrong and that it was impossible to be a "good" person and associate with white nationalists or white supremacists. Others posted some of the more shocking images from over the weekend. But overall, celeb parents reacted to the tragedy much like other parents did: With concern.
Here are just a few of the celeb reactions from the past few days.
Olivia Wilde
Wilde, mother of 3-year-old Otis and 10-month-old Dasiy, joined other stars in New York City on Monday to protest in front of Trump Tower.
Kim Kardashian West
The Kardashians, along with North and Saint, sent their prayers to the victims of any hate or violence.
Busy Philipps
Philipps, the mom of 9-year-old Birdie and 4-year-old Cricket, filmed an Instagram Story about how she wanted to wait to respond until she found this repost from Girls writer Jenni Konner to urge people to get up and act.
Kerry Washington
Washington, mom of 10-month-old Caleb and 3-year-old Isabella, was busy on Twitter, retweeting important threads by people of color breaking down the situation sharing messages of #LOVE.
Chelsea Clinton
Clinton, a mother of two, has been weighing in for days on Twitter focusing on the administration's response to the violence and also making some of the finer points about the cause of the protests — the removal of confederate memorials.
John Legend
Legend, dad to baby Luna, tweeted over the weekend about the administration's role in enabling the rally to take place on Saturday.
Chrissy Teigen
Meanwhile, Legend's wife has been tweeting her utter shock and awe at the president's reaction.
Kristen Bell
Bell's been on Instagram all week sharing images that struck her from Charlottesville over the weekend, but didn't say whether she had spoken to 4-year-old Lincoln or 2-year-old Delta.
Kevin Hart
Hart tweeted on Saturday that he hoped parents were using this as a teaching moment, like he would be doing with his kids, 12-year-old Heaven and 9-year-old Hendrix.
Gabrielle Union
Union's the step-mom to Dwayne Wade's kids, Xiavier, Zion, and Zaire. On Twitter, she shared her thoughts about how white people can best be allies.
Blake Lively
Lively shared a picture of a block of text about not being afraid to "get political." Apparently she and husband Ryan Reynolds will definitely teach their kids, 1-year-old Ines and 2-year-old James, to not be complacent.
Just like "regular" parents, celebrities were doing their best this week to make sense of the violence and hate in Virginia over the weekend. And just like so many other moms and dads, they were trying to figure out how to pass the right kind of messages onto their children.