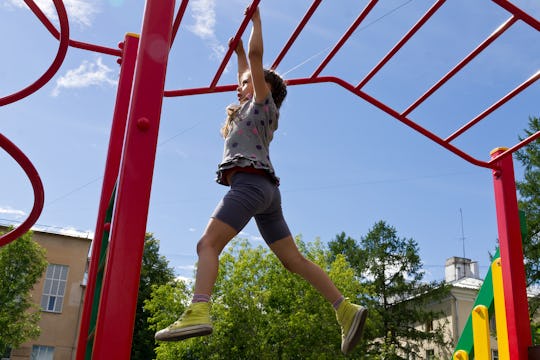 zabavna/Fotolia
Every Parent Should Watch Out For These Common Playground Dangers
Even though you probably tend to think of today's playgrounds as less dangerous than the ones you played on (with their metal slides and patches of asphalt under the swings), playground injuries are still surprisingly common. Sure, the asphalt has been replaced with soft, shock-absorbent material or wood chips, and more of the equipment is made out of plastic than rusty steel. But a shocking number of kids still end up in the ER every day needing stitches, casts, and countless other types of treatment after a day of play. So what are the most common dangers at the playground?
Whether their injuries are the result of faulty equipment, using equipment improperly, or just plain bad luck, over 200,000 children are injured on America's playgrounds, reported the National Program for Playground Safety. Unfortunately, while some efforts have been made to address the issue of unsafe playgrounds, there is no "nationally coordinated effort," according to the NPPS. That means parents have to exercise caution when it comes to which playgrounds their families frequent and whether or not certain things should be avoided.
And, obviously, kids (especially young kids) should be supervised on the playground. There's no way to make it through childhood completely unscathed, but the more breaks avoided, the better.