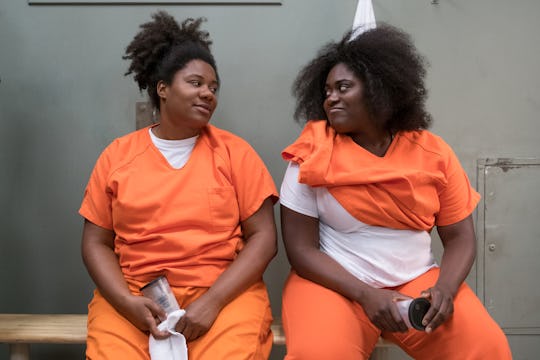 JoJo Whilden/Netflix
'Orange Is The New Black' Theories To Get You Hyped For Season 7
Orange Is the New Black Season 6 left off on note of hopefulness and despair, depending on which character you look at. Piper got out of prison and was met with open arms by her brother and Sophia was about to get a happy ending herself. But instead of following suit, Blanca was sent to an ICE detention facility and her fate is up in the air. Luckily, there are already some Orange Is the New Black Season 7 theories to get you through the rest of the time between now and July 26, when Season 7 drops on Netflix.
Season 7 of OITNB marks the end of the series. And like the past six seasons, there will be 13 episodes to round out the series and give most, if not all, of our beloved inmates proper endings. I don't see everyone getting *happy* endings, but in most cases, I see fans getting the closure they need to say goodbye the show.
Red, for example, is probably never going to get out of prison at this rate. And Frieda has had such bad luck that she will probably die in prison before Season 7 is over. There could be happier endings for some of the inmates, however, like Piper, who is already out of prison, and Nicky, who seemed intent on staying on the straight and narrow at the end of last season.
But until OITNB Season 7 premieres, these theories can help you prepare for the worst and hope for the best.