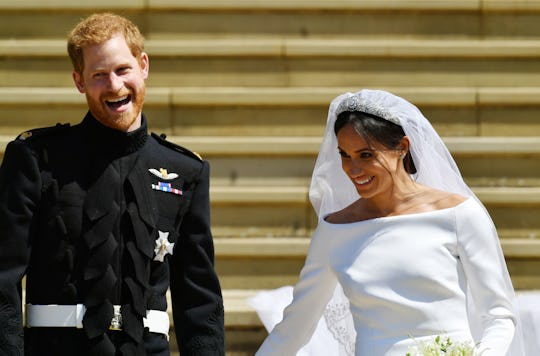 WPA Pool/Getty Images Entertainment/Getty Images
These Perfect Movie Moments From The Royal Wedding Has Everyone Absolutely Freaking Out
Prince Harry and Meghan Markle's wedding on Saturday was nothing short of perfect. Everything went so beautifully, in fact, that people are comparing certain moments from the royal wedding to Disney movies. Cute, right? And if you love all things royal and Disney (or perfect cinematic moments in general) , you'll definitely appreciate these movie moments from the royal wedding.
If you caught the royal wedding in real time, you probably noticed the entire event at St George's Chapel, Windsor Castle was impeccable. I mean, where do I even begin? For starters, Meghan looked absolutely phenomenal in her custom-made Givenchy gown. Then there was the gorgeous music and an incredibly moving rendition of "Stand By Me." Oh, and who could forget the beautiful tributes to Diana, Princess of Wales? Like I mentioned earlier, the event was flawless from start to finish.
Of course, many excited fans couldn't help but note that some moments from this stunning event possessed cinematic qualities. And to be fair, these people weren't wrong. The event did have all the fixings of a movie, after all — royalty, true love, etc. On that note, folks, here are all of the movie moments from the royal wedding.
Smitten Glances
During Reverend Michael Curry's passionate speech about love, you might have noticed Harry and Meghan exchanging a few smitten glances with one another. The moment was adorable, to put it mildly, and it shows just how in love the couple is. The moment also proves that Meghan's life is essentially a carbon copy of the Princess Diaries.
"Is this princess diaries or what," someone wrote, according to Twitter.
"This is some Disney animation stuff right here," another person added. "So great."
The Lifting Of The Veil
One of the most iconic moments from a wedding ceremony is when the groom lifts the bride's veil over her head. Unsurprisingly, Meghan and Harry were no exception to this rule. As soon as Harry lifted Meghan's veil, the world was treated to another cinematic image. Although it's hard to sum up this picture in words, Meghan's happiness here is beyond romantic. And because Twitter is awesome, many people responded to the pic with pictures of Ariel and Belle looking lovingly into their respective partner's eyes. Aw.
Somewhere out there, renditions of "Kiss The Girl" and "Tale As Old As Time" are softly playing.
You Look Amazing
One of the most adorable moments from the wedding had to be when Harry mouthed to Meghan, "You look amazing. I'm so lucky," according to ABC News. The sweet comment went down right after Harry's dad, Prince Charles, Prince Of Wales, walked her down the aisle.
Obviously, having your partner compliment you in a heartfelt way is pretty awesome (and dreamy).
"Ahhh every girl loves a fairytale romance," someone said.
"#PrinceHarry He is absolutely the Prince in every @Disney movie! But even better. #ThatSmile #lovehisfacialexpressions," another fan pointed out.
The Kiss
Of course, one can't talk about royal wedding movie moments without mentioning the first public kiss. I can't think of anything more picture perfect — and Disney — than a smitten couple kissing in front of their adoring fans. Heck, I think it's safe to say that's how every great love movie ends.
So, should Harry and Meghan's love story make it to the big screen one day? Fans say yes. "Prince Harry and Meghan need to have a Disney movie because that wedding was a fairytale," one fan argued, according to Twitter.
Yeah, I'm in total agreement that this wedding needs to get the movie treatment. And not a Lifetime version (no shade to Lifetime, of course) — but a Disney-inspired one. Give the people what they want, Disney execs.