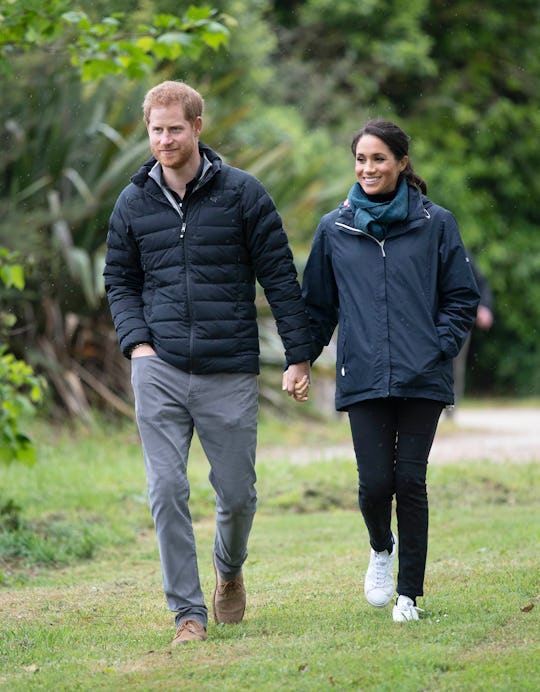 Pool/Getty Images Entertainment/Getty Images
Meghan Markle & Prince Harry's New House Will Be *Perfect* For Their Family
Prince Harry and Meghan Markle, Duke and Duchess of Sussex, have been bunking up with Prince William & Kate Middleton, Duke and Duchess of Cambridge, at Kensington Palace for a while now. (Well, as close as royals would ever get to sharing bunk beds, which is living in a separate house on the same grounds.) But now that the younger royal couple is expecting their first child, they are moving into their very own home, which will put a bit of distance between them and the royal family. Photos of Frogmore Cottage, Harry and Meghan's new house, show that it will be the perfect place for them to raise their child.
According to People, Prince Harry and Meghan are moving to Windsor Castle's Frogmore Cottage. Their new home is a 40-50 minute drive from the Kensington Palace/Buckingham Palace area, as seen on Google Maps. Since Prince Harry isn't directly in line to the throne like his brother Prince William, he and Meghan can probably get away with living a bit further away from all of London's royal action.
Frogmore Cottage isn't much of a cottage — it's actually a 10-bedroom house with additional space for a nursery and yoga studio, located on the Windsor Estate, according to royal correspondent Emily Andrews. She added that the house is in need of refurbishment, so it's currently being upgraded into a modern family home for the Duke and Duchess.
Based on photos going around the internet, Frogmore Cottage is absolutely gorgeous. The two-story home seems to be surrounded by a huge lawn, which I'm sure the couple's dogs will love.
Andrews added that the home, which was a gift to the couple from Queen Elizabeth II, is currently being used as accommodations for palace staff. The cottage was turned into five apartments for the staff members, so it may take a while to convert the place back into a palace. And on top of renovations, security will probably need to be heavily increased at the cottage before Prince Harry and Meghan move in. As The Telegraph reported, the house is currently guarded with only a small fence and a "private" sign, meaning the public can walk right up to the edge of the grounds.
As noted in a statement released by Kensington Palace, Prince Harry and Meghan are expected to move into Frogmore Cottage "early next year." Meghan's due date is sometime in the "Spring of 2019," according to a royal statement Town & Country published. Hopefully the couple is able to get settled in their new home before Meghan gives birth.
The palace also noted that Prince Harry and Meghan have been living at Nottingham Cottage, a house on Kensington Palace's grounds, since their engagement, and that they will continue to have their office at Kensington Palace.
This spring, Prince Harry and Meghan had their evening wedding reception at Frogmore House, which is also on the Windsor Estate. It will be pretty cool for the couple to wake up every morning, look out the window, and see the place where they celebrated their wedding!
Frogmore Cottage seems like the perfect place for Baby Sussex to grow up, and it will be so exciting to continue witnessing Harry and Meghan's royal family bloom.
This first-time mom wants to have a home birth, but is she ready? Watch how a doula supports a military mom who's determined to have a home birth in Episode One of Romper's Doula Diaries, Season Two, below. Visit Bustle Digital Group's YouTube page for the next three episodes, launching every Monday starting November 26.