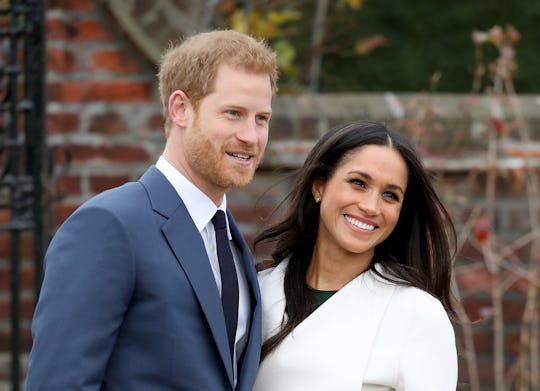 Chris Jackson/Getty Images Entertainment/Getty Images
This Is The Creative Moniker Meghan Markle & Prince Harry Reportedly Gave Their New Dog
Just four months after the Duke and Duchess of Sussex tied the knot on May 19, People reported in late August that the happy couple adopted a Labrador Retriever dog. Of course, many people want to know what Prince Harry and Meghan Markle named their dog, a question that was supposedly answered on Monday. Some fans might be surprised to learn that Prince Harry and Duchess Meghan reportedly chose a very unique and unexpected moniker for their furry friend.
Adopting a pet can be an exciting process for couples, so one can imagine Prince Harry and Duchess Meghan had a blast picking out their first pup together. Although Duchess Meghan already has an adorable beagle named Guy (he arrived at the royal wedding alongside the Queen), it's fair to assume they adopted the Labrador in an effort to solidify their new family. How cute.
So, what's the lucky dog's name? There's a good chance Duchess Meghan and Prince Harry named their new friend Oz, People reported on Monday. A source close to the couple also dished that the adoptee has spent a lot of time with the Duke and Duchess of Sussex at their vacation home in the Cotswolds and at Nottingham Cottage at Kensington Palace in London, according to E! News.
It goes without saying Oz is an uncommon moniker, and that many people probably associate it with the 1939 classic, The Wizard of Oz. But as unique as the name might seem, it has traditional roots. In Hebrew, the name means "strength" and "courage," according to Baby Name Wizard. The "full Hebrew name is Ozni, who was a grandson of Jacob in the Bible," according to Name Berry. Oz could be a nickname for Oscar, Osborne, or Oswald, for example.
Considering Duchess Meghan and Prince Harry have a lot on their plate at the moment — including some drama courtesy of Thomas Markle — it's not very surprising they reportedly chose a powerful name for their new pooch. The Duke and Duchess of Sussex are going to need all of the strength and courage they can muster as they navigate their high-profile lives together.
On the other hand, it's also possible the meaning behind Oz's name isn't that serious. Perhaps the couple chose the moniker as a tribute to Australia, aka "Oz." The theory makes sense when you consider Prince Harry plans to host the Invictus Games, an "international sporting event for injured servicemen and women," in Sydney, Australia this year, according to The Royal Foundation. In fact, the Duke and Duchess of Sussex intend to visit Australia in October to witness the sporting event firsthand, according to Kensington Palace.
It's also interesting to note a then 18-year-old Prince Harry spent some of his gap year — a break between high school and college — in Australia. The Duke of Sussex spent time working "on a cattle station and participating in the Young England vs Young Australia Polo Test Match," according to The Telegraph. It's fair to reason Prince Harry grew to know and love Australia on a deep level during his time there.
Lastly, it's quite possible Prince Harry and Duchess Meghan both love The Wizard of Oz. I'm particularly fond of this option because I like imagining the couple snuggling up together to watch the classic. It's a sweet image, right?
Either way, it's pretty wonderful the Duke and Duchess of Sussex expanded their furry family to include Oz. I bet Prince Harry and Duchess Meghan —along with Guy — are enjoying the new addition at this very moment. Welcome to the royal life, Oz.