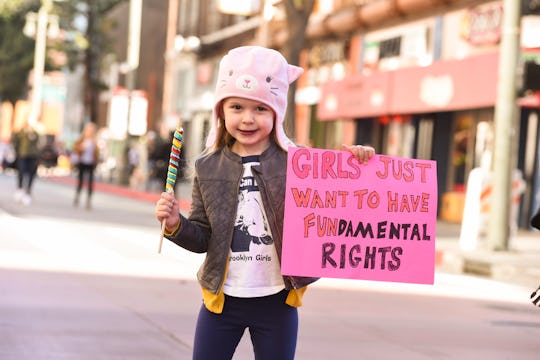 Presley Ann/Getty Images Entertainment/Getty Images
These Kids At The Women's March Will Have You Pumped For The Future
One doesn't always associate kids with protest marches, but the Women's Marches seem to differ from other demonstrations in that regard (and so many others). Kids have been taking to the streets with their moms and dads since the very first march three years ago, and this year is no different. Whether in strollers and on shoulders, or marching with their own little feet — sometimes carrying signs they made themselves — photos of kids at the 2019 Women's March prove that the next generation is already preparing to take their parents' places in the fight for gender equality.
In fact, the focus on kids feels more crucial than ever this year, with thousands of children still separated from their families at the border. They have no way of speaking out, no way of asking for help or exposing their circumstances to the world. That's why seeing kids march this year seems so incredibly poignant: They march for children everywhere who don't have the same rights and freedoms. They march to remind the world that children grow up to be voters, policy-makers, politicians, and leaders. And whether or not the youngest of marchers fully comprehends any of this doesn't even matter. They are the messengers, and someday they'll look back and understand why it was all so important.
And they'll be glad there are photos like these as proof!