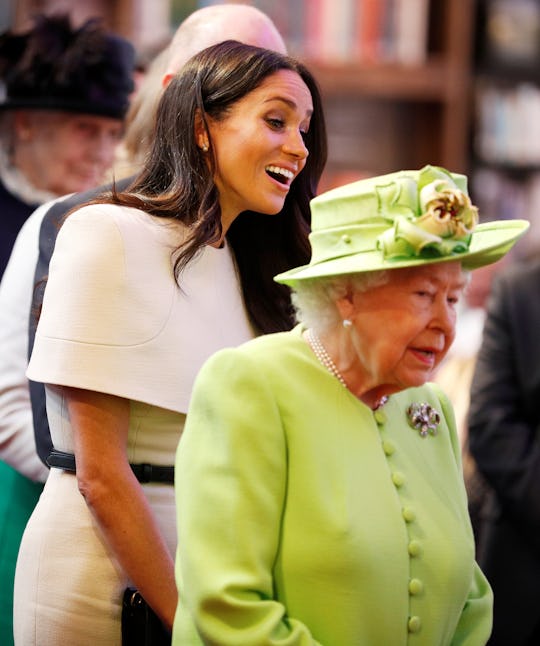 WPA Pool/Getty Images Entertainment/Getty Images
These Photos Of Meghan Markle & The Queen Show They Were Destined To Be BFFs
As unbelievable as it sounds, the royal wedding was over a month ago, which means that Meghan Markle has been an official member of the British royal family for just as long. And while her transition into her new life has been full of royal outings and events, the new Duchess of Sussex has also gotten to spend a lot of quality time with her new grandmother-in-law. Which is why all of the photos of Meghan Markle and the queen prove that the two women are forging a new kind of bond, and it's awesome.
Really, it's nice to see that Markle and Queen Elizabeth II seem to be getting quite close, as joining the royal family has probably been a tricky and confusing time. Coming from a different country in and of itself would be a pretty drastic change, but Markle also has to deal with what it means to be royal, and all the rules and regulations (no more bright nail polish!) that come with her new title. So knowing that the queen and Markle are getting along and spending time together is just so nice to see.
The Duchess of Sussex has dealt with her fair share of drama even before her May 19 wedding to Prince Harry. But now that she's a full-fledged royal, things have kicked up a notch. Now that she's settling in nicely with her new home, life, and title, these photos of Markle and the queen are even more evidence that the two strong women are basically the best friends we all hoped they'd be.
When They Went On Their First Outing Together & Clearly Had A Blast
Shortly after Markle and Prince Harry returned from their secretive honeymoon, the bride went on an overnight trip with her new grandmother-in-law. Indeed, less than a month after her wedding, on June 14, Markle boarded the Royal Train with Queen Elizabeth and spent the night on the overnight carriage before arriving in Cheshire, England to oversee the opening of a new bridge with Her Majesty, according to Glamour.
And basically, the two had a perfect time. Don't believe me? Just look at the photos of the two royal women, looking flawless and having a grand old time.
In the above photo, Markle and the queen are seen receiving posies from some local schoolchildren named Lilja and Nye, according to Kensington Palace.
The Two Weren't Next To Each Other At The Trooping The Colour Parade, But Still Had A Good Time
Before they went on their big solo outing, though, Markle and the queen spent some time together at the Trooping the Colour Parade on June 9, according to Harper's Bazaar. The occasion is an annual event which marks the queen's official birthday (not her actual birthday) and is extremely traditional.
So, given royal hierarchy and all that, it makes sense that Markle didn't stand right next to the queen, as every member of the royal family has a position, and Markle and Prince Harry are further down the line than, say, Prince William and Kate Middleton.
But, from the looks of it, it certainly seemed like the two still enjoyed each other's company.
At The Queen's Young Leaders Event, The Two Were Relaxed Around Each Other
Most recently, Markle and the queen attending the Queen's Young Leaders event at Buckingham Palace on Tuesday. The event highlights exceptional young people across the commonwealth. And, according to TIME, Prince Harry gave an apparently hilarious speech, which left the queen and Markle in absolute hysteria.
Markle is clearly handling her new publicity and life as a royal extremely well and enjoying getting to bond with her new husband's grandmother, who just so happens to be the queen.
Clearly, the two are becoming close, and really like hanging out.