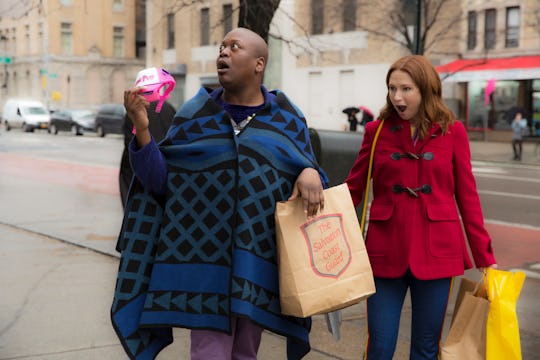 Eric Liebowitz/Netflix
'Unbreakable Kimmy Schmidt' Has An All-Star Guest List For Season 4
Season 4 of Unbreakable Kimmy Schmidt will be the show's last, so you'd better believe that they'll be pulling out all the stops. And by that I mean that there are going to be a few interesting cameos to help the show go out with the bang it truly deserves. You'll probably recognize most of the Unbreakable Kimmy Schmidt Season 4 guest stars, but some of them are brand new to the series rather than just returning guest stars.
In the past, the show hasn't been a stranger to bringing in some pretty big names like Jon Hamm, Maya Rudolph, Martin Short, and of course Tina Fey, just to name a few of the big names from the show's past. For Season 4, though, there will be more guest stars to get you pumped for the final season, even though nothing can really prepare any of us for the end of one of Netflix's shining beacons of comedy.
Viewers can expect some of the recurring guest stars to return to reprise their outrageous roles, as most characters on the show have proven to be hard to take seriously. But there's also going to be a few newcomers to help bring the hit Netflix series to an end, even if literally none of us are quite ready to say goodbye to the show.