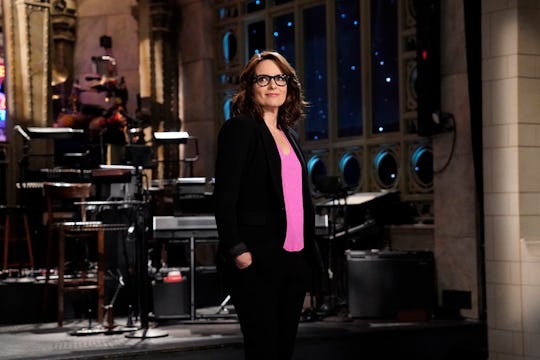 Rosalind O'Connor/NBC
The Cast Of 'SNL' Could Go Through Some Shakeups Next Season
Nothing makes you feel old like turning on Saturday Night Live and realizing that you hardly recognize anyone. Luckily that hasn't happened to me, but there is a steady turnaround on some of the SNL players, and more often than not there are new faces that get introduced each season. So, who is returning for SNL Season 44? There could be some cast shakeups coming our way, if only because that's how things work on a sketch comedy show. While SNL hasn't made any formal announcement just yet about who might leaving and who will be returning — even the actors themselves haven't said anything — for the most part, it's relatively easy to see who will be back in the fall.
Since there are some cast members who who are featured players, they're likely in the most danger of not returning for Season 44 of SNL. Viewers could see some of them leaving because they didn't manage to make their mark on the show or, on the flip-side, they end up getting promoted to regular cast members due to their popularity with the fans. It's hard to say with any absolute certainty who this people will be, especially since there hasn't been confirmation from SNL about who will be coming back for another round, but there are also several cast members whose fates seem pretty clear at the moment.
Mikey Day started as a writer for SNL and eventually graduated to featured player for Season 42. But given his increasing number of sketches over the course of Season 43, I wouldn't be surprised if he not only returns next season, but also became part of the core cast. Without Day, who else could give us a superb Donald Trump, Jr. impression? Then there's Kenan Thompson, who's been a huge part of the show for many years. And since Lorne Michaels himself told the Huffington Post that "If you were designing the person perfect for SNL, most of the components would look like Kenan," I'd say he's safe for as long as he wants to stay on the show.
One person I can see leaving SNL is, unfortunately, Kate McKinnon. She's been on the show since 2012 and like Thompson, she seems like one of those actors that will be there forever, much to the delight of fans. But with her rising star power, it's only a matter of time before she leaves SNL to take on even more projects. Meanwhile, Pete Davidson seems to be appearing in more and more skits these days, so I'm hopeful viewers will see even more of him come the fall.
For the most part, I can see other big cast members like Cecily Strong, Kyle Mooney, and Beck Bennett returning to SNL, mostly because they've been prominent fixtures in the sketch show for a while and don't seem to have many other huge projects going on outside of SNL. For Aidy Bryant, who is another much-loved cast member, it could go either way. Bryant and Lorne Michaels are currently developing a comedy series for Hulu and if she ends up working on that full-time, she may not have time to continue as one of the main cast members on SNL. Honestly, it would be hard to say goodbye to her, especially since she's easily one of the best actors on the show overall, but again, nothing is set in stone right now.
The SNL Season 44 finale airs on May 19 at 11:30 p.m. EST., as per usual, on NBC. Although it's difficult to say which cast members will definitely return next season, at least we can always be sure that with SNL, there will always be a next season.