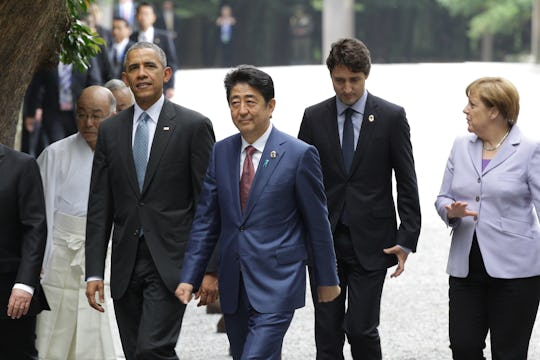 Chung Sung-Jun/Getty Images News/Getty Images
This 'Avengers'-Themed Obama Thread Is Twitter Perfection
These days, it doesn't exactly seem like President Donald Trump has any desire to play nice with his fellow world leaders, marking yet another major departure from his predecessor, President Barack Obama. Trump's bold "America First" approach hasn't exactly left many feeling all that optimistic about the country's position on the world stage, but Twitter has once again come through with some much needed comic relief. This Avengers-themed Twitter thread featuring world leaders has perfectly captured the fictional alternate-reality that dreams are made of: one in which Obama has assembled a superhero-esque team of politicians in an attempt to save the world.
Trump hasn't hidden the fact that he is entirely unafraid to disagree with, well, pretty much anyone. In the past month alone, he has opted to pull out of the Paris Accord, according to CNN, despite a subsequent public rebuke by French President Emmanuel Macron; has decided against explicitly reaffirming his commitment to NATO (reportedly without even giving his own team the heads up); and has also openly criticized London Mayor Sadiq Khan on social media after the recent terrorist attacks in the city — while also taking his comments completely out of context. The Avengers thread might not actually change the fact that things may feel totally grim right now, but it's also kind of hard not to wish that the hilarious (and super clever) thread could somehow come true in real life.
The thread, shared by writer Oliver Willis Tuesday night, begins with a photo of Obama greeting German Chancellor Angela Merkel and Canadian Prime Minister Justin Trudeau. The pic alone is enough to cause some major nostalgia for the days when the POTUS actually got along with other world leaders, but Willis is only just getting started. In follow-up posts, he adds Macron and Mexican President Enrique Peña Nieto (certainly no supporter of Trump, thanks to the back and forth over the proposed border wall between the two countries), both of whom appear totally ready to accept the challenge placed before them:
After Captain America gives Obama a quick patriotic shout out, the former POTUS then gets down to business, identifying the villainous Skrull that needs to be defeated — who, in this case, happens to have taken the human shape of President Trump.
And, since desperate times obviously call for desperate measures, Obama also informs the group that he has (wisely) brought in some extra help:
Other Twitter users quickly joined in on the thread, praising Willis for his creativity, while also adding in some pretty great additional details to the story:
Along with this fantastic Macron gif:
Then there was the reminder that Trudeau would likely have no difficulty with the physical challenge of taking on an evil alien overlord:
(In 2012, Trudeau — then a Member of Parliament in Quebec's Papineau electoral district — took part in a charity boxing match against Canadian Senator Patrick Brazeau, and NO I AM NOT KIDDING.)
Unsurprisingly, the thread has turned out to be a huge hit:
And in a follow-up tweet, Willis naturally admitted he was bracing himself for the inevitable next step:
The superhero Twitter thread may have all been for fun, but given the backlash surrounding so many of Trump's political decisions lately, it's not entirely surprising that it resonated so well. While many Americans do still support Trump, and believe that he will "Make America Great Again," countless others are extremely concerned about what his presidency could mean for the environment, the economy, health care, reproductive rights, education, and, well, pretty much every other aspect of their lives.
Trump may indeed feel as though he's doing the right thing for his country to stand his ground — even when it means alienating himself from other leaders. But based on the reaction from Willis' Twitter thread, it's also very clear that not everyone agrees.