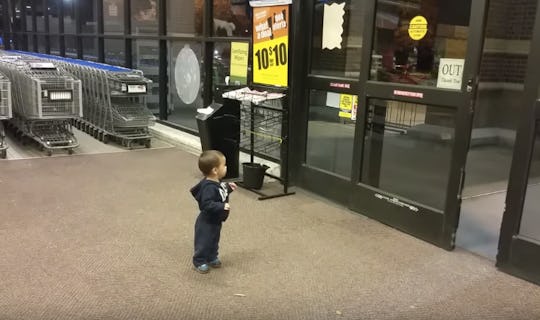 This Baby's Reaction To Seeing An Automatic Door Will Remind You How Beautifully Dumb Babies Are — VIDEO
The holiday season is officially here, so you know what that means: Many of us will be enjoying time with family, appreciating traditions, and introducing our kids to the glorious parts of the season, like twinkle lights, snow globes, gift bags with tissue paper inside, and, of course, motion sensors in retail locations. Thanks to this adorable baby discovering automatic sliding doors, we're all reminded that grocery stores can be full of wonder and whimsy. And no, I'm not just talking about recent advancements I'm seeing in snack and soft drink aisle. Of all the things kids do in public, this is one of the best.
I might be a little extra emotional because I've already spilled my coffee once today and it didn't ruin my computer (all the praise hands!), but seeing how amazed this little guy is brings us a nice reminder to slow it down and take it all in. Snow falling outside? Beautiful! Holiday cards arriving from distant friends? Wonderful! Automated doors parting for our convenience? Hallelujah! I don't care what's on the news, the world is a beautiful place and everyone is the best. Nothing like the holiday season, and YouTube, and quick dads with smart phones on hand, to remind us how magical the world is through the eyes of a child.
And, since internet videos are really a gift to us all, what better time to enjoy a few more than this festive time of year? Let's take a tour through some of the Internet's best videos capturing that childlike wonder that only, you know, only children can posses...