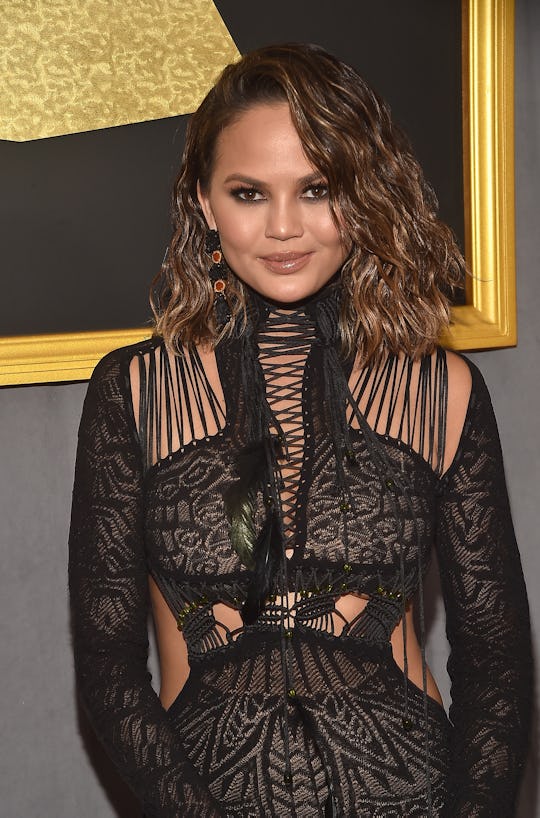 Alberto E. Rodriguez/Getty Images Entertainment/Getty Images
Adele Gave Chrissy Teigen Life Because Of Course
Her husband may be performing at the 2017 Grammy Awards but, honestly, Chrissy Teigen is an award show gem in her own right. She's hilarious, outspoken, will publicly and mercilessly mow down anyone foolish enough to try and come for her, and, at the 2015 Golden Globes, gave a cry-face so universal its screenshot lives on as one of the most versatile memes of all time. So it's no surprise that this Chrissy Teigen 2017 Grammys moment also took Twitter by storm.
The possibilities for Grammys hilarity began early when, on the Saturday before, she tweeted out a photo of her thumb and forefinger stained green with Fun Dip, which she couldn't seem to scrub off. "I ate fun dip with my fingers last night and I'm stained and Grammys are tomorrow," she wrote. "I've tried everything please help." Several fans helpfully suggested she just go "full Elphaba" and show up painted entirely green. Um, that's a choice, I guess. Luckily, Teigen managed to mitigate that disaster and was able to show up as herself.
However, it was the way in which Chrissy positioned, packaged, and described what could have been a "disastrous" Grammys moment that reminded fans (and maybe even non-fans, if there is such a thing) why we all love her.
Prior to Adele's second performance, Beyoncé took to the stage pregnant with twins, giving a show-stopping act in which she celebrated womanhood, femininity, her pregnancy, and the ability to rise up in the face of a painful past and certain adversity. Like Teigen, everyone on stage and around the world watching her performance died.
Moments later, Adele took to the stage to pay tribute to the late, great George Michael, only things didn't go according to plan. A few seconds into the performance, Adele stopped it and asked to start over despite it being "live TV." Adele apologized for swearing and for starting over again, telling the crowd that she had to "do this right" for Michael. She refused to have a "mishap" last last year, in which she infamously sang off-key thanks to a dropped mic and subsequent technical problems. After Adele started her performance over and ended it beautifully, the Grammys crowd gave her a standing ovation and, just like that, Teigen and the rest of us were all brought back to life.
Yes, it could have been an awkward moment, but it was truly one in which we could all collectively watch women support women, whether they were on stage or in the crowd. After all, what's an awards show without Teigen's wit, humor, honesty, and compassion, right?