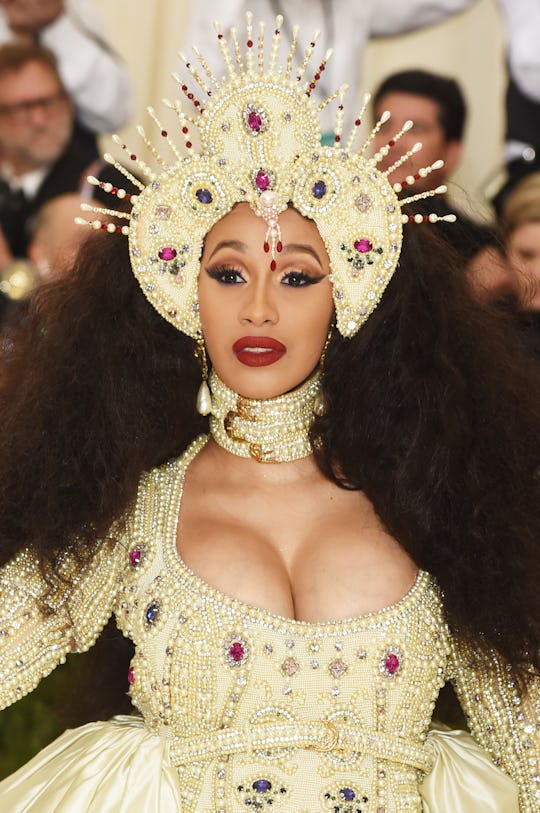 Jamie McCarthy/Getty Images Entertainment/Getty Images
This Is Cardi B's Rumored Baby Registry, & It's Just As Glam As You'd Expect
I am personally a huge fan of baby registries, because they ensure I'll be able to give something the parents-to-be will actually want. But when you're friends with a celebrity, and thus, can't really just show up with a box of diapers and a value pack of plain, white onesies, a baby registry seems like even more of a necessity. The only issue? Sometimes the requests can be a bit over-the-top: This is Cardi B's rumored baby registry, and honestly, it sounds like her little one is going to be living a seriously luxurious life. Because while it seems that she's requested some fairly standard items (think: baby food maker), some are, well, very not standard (hello, gold leaf bassinet).
On Monday, TMZ reported that sources close to the rapper shared the contents of Cardi B's baby registry, and, honestly, it's pretty impressive. For one, the site has claimed Cardi B requested a pretty swanky "$2,799 baller bassinet," for her little one. But although a bassinet is at least pretty useful request, it's a bit less useful than her next request: that the bassinet be covered in gold leaf for an additional $839.
What's more is that, even though she's not even born yet, Cardi's baby girl may already have her first set of wheels waiting for her in the garage. That's because the star also reportedly asked for a "battery-powered Bentley Bentayga," which is essentially a ride-on car for kids designed after the real-life luxury vehicle. Not too bad, right?
TMZ stopped short at sharing the entire list, but Cardi B recently admitted that she found it kind of hard to not get carried away while making her baby registry. On Friday, she tweeted that looking for baby gifts kind of just made her think about things she wanted for herself, and joked, "my baby thinks I need this Gucci dress."
In other words, it definitely sounds like Cardi B's baby shower gifts are going to look a whole lot different from the average mom's. But then again, she'd also be far from the first celeb mom to step out with some seriously swanky baby gear: although new mom Khloé Kardashian may have kept things low-key with her relatively-affordable stroller pick, her younger sister, Kylie Jenner, had no qualms about showing off her Fendi Inglesina Classica pram, for example, while Mindy Kaling's designer Cybex by Jeremy Scott Cherub stroller rings in at about $2,000.
It's also not the first hint that Cardi B was going to take an unapologetically glam approach to baby gear. In April, TMZ reported that she and her fiancé Offset chose a $900 rose gold crib from West Hollywood boutique Petit Trésor for their nursery, among other metallic decorative items.
Yet, as exciting as it can be to celebrate your baby's upcoming birth with a baby shower — particularly when the gifts might include golden bassinets and cribs — it sounds like Cardi B's baby has actually made her party plans a bit of a nightmare. On June 20, she shared that she "was planning to have [two] baby showers," the first in New York City, and the second in Atlanta, where she and Offset live, according to Us Weekly. But after her doctor told her she could no longer fly, it meant she "[had] to fly 60 people to Atlanta" — which is probably one reason why, on Saturday, she also tweeted, "Baby shower planning makes me not even wanna do a wedding."
Honestly, given that celeb baby showers are pretty much required to be huge events (remember Kim Kardashian's shower before Chicago's birth?), there really must be a lot of pressure involved. But it also seems like Cardi B's baby will absolutely be living the life when she arrives, and, let's be honest, that her room will likely be fancier than my entire house.