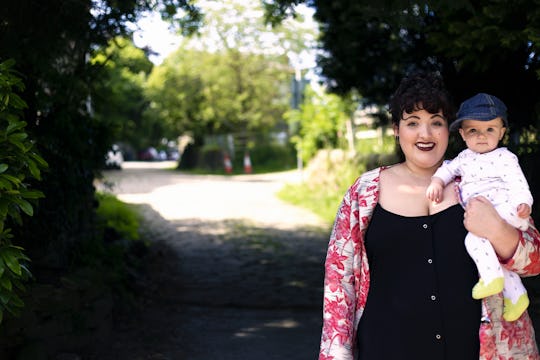 Courtesy Marie Southard Ospina
The Only Little Black Dress You Should Buy Postpartum
Let's be very, very honest about this — pregnancy and childbirth change your body. Regardless of what tabloid headlines about celebrities' post-baby bodies and Instagram #fitspo posts might tell you, the reality is that your body's going to look and feel a little different after having kids — which means your clothes will probably look and feel different, too. Luckily, you don't have to wear your maternity jeans and your partner's ratty old college sweatshirts forever (unless you want to!). Mom Jeans is Romper's guide to helping you figure out your postpartum wardrobe during the first few months postpartum and beyond.
Many of my non-parent friends enjoy asking me what the most difficult aspect of new motherhood actually is. I can't blame them. I'd be curious, too. There's a list that does come to mind: the incessant diaper changes, the constant threat of diaper leakage, the late nights, early mornings, and lack of sleep. But what many don't expect to hear is that the first seven months of parenthood are difficult for another reason: fashion, or the lack thereof. Thanks to decreased energy and time, not to mention the impracticality of navigating breastfeeding in anything other than a button-down, I've lost my sense of style post-baby. That said, a certain little black dress has saved my life postpartum.
While such a sentiment might seem like hyperbole, I can assure you that it's not. For months after Luna was born, I'd stare at my clothing rack (jam-packed with sequins, vintage-inspired swing dresses, mod turtlenecks, and bodycons) with the utmost despair. Clothing has long been a means of self-expression for me. As a plus size woman, it's also been a way to protest all of the so-called "rules" for my body. When I wear loud colors, bold prints, tight-fitting skirts, or short shorts, I'm saying that I deserve to take up space and live my life freely.
Since having a kid, however, I can rarely muster up the energy needed to create a bona fide look. Because I'm still breastfeeding, I typically can't be bothered with any outfits that don't provide easy access to my boobies, anyway. That's why the aforementioned little black dress has been my saving grace.
ASOS Curve Bodycon Maxi Dress With Popper Details, $35, ASOS
When I started thinking about workarounds to my new-mom fashion problems, it occurred to me that what I really needed was an outfit or two that felt true to my style and fat positive politics, but was also incredibly easy to get on and off. That's when I stumbled upon a black maxi dress from ASOS Curve. It was made out of ribbed jersey material that I knew would be soft, stretchy, comfortable, and form-fitting. It'd likely hug onto my belly and thighs and remind me that no part of my post-pregnancy body was shameful. The popper details down the center would keep things minimal, but just a little bit more eye-catching. The split detail at the bottom would allow me to feel a slight breeze on my legs while adding a little sexy to the mix. There were no zippers or buttons, either. In other words, cue the hallelujahs.
The dress also seemed like the kind of thing I could easily style for any kind of occasion. I could wear it as is for a whole number of activities, be it errand-running, visits with friends or family, or day-to-day sh*t around the house. On the off chance that I'd be attending a cocktail party, fancy dinner, or professional meeting, I'd just need to add the appropriate shrug, scarf, jacket, or jewelry. Maybe something sparkly for a night out, or something tailored for work. Maybe a '90s choker necklace if popping into a grungy bar in the city. I could even turn the dress into a maxi skirt by adding one of my many button-down blouses in my post-baby arsenal on top of it. The top-and-skirt combos would be endless.
I missed so many of my pre-baby clothes. Hell, I still miss them sometimes; but with this dress, I can at least play around with my personal style a little
Although I'm hardly anti-outfit repeating, the possibility of experimenting with this dress sold it. I knew that it could be the foundation for countless ensembles. I missed so many of my pre-baby clothes. Hell, I still miss them sometimes; but with this dress, I can at least play around with my personal style a little. I can remind myself that playing around with clothes is something I love — and keeping hold of things that I love is of utmost importance to me these days.
The ease of breastfeeding in this little black dress is perhaps the biggest perk of all. Plenty of retailers specialize in "nursing-friendly" garments, but the reality of these clothes is that they are often heinously boring and typically unavailable in extended sizes anyway.
Thanks to the adjustable straps of this particular dress and its generally stretchy nature, however, I can pull whichever boob I need out in seconds.
I've primarily been sticking to button-downs because they seem like the most practical, easy option. After all, they don't involve getting half-naked (if not almost entirely naked) in public, come rain or shine, like an over-the-head dress or high-necked tee would. There'd be no shame in doing this, obviously, I just happen to live somewhere cold and wet, and I don't like getting even more cold and wet.
Thanks to the adjustable straps of this particular dress and its generally stretchy nature, however, I can pull whichever boob I need out in seconds. I can slip it back in just as easily. The bulk of my body remains clothed and warm, while my daughter can suckle to her heart and belly's content.
New parents are often expected to be totally chill with the idea of giving things up. We're supposed to eschew nights out at the cinema in favor of nights in with Shrek re-runs. We're supposed to stop drinking cocktails and start drinking juice boxes. We shouldn't be preoccupied with trivial things like maintaining our identities outside of motherhood.
I've known from pretty early on that I'd never be chill with any of that. The truth is, fashion is important to me in the way that maintaining my friendships is important to me. It's part of my self-care routine, which also includes reading and drinking the occasional cocktail and treating myself to some upper lip waxing. When navigating tiredness and a screaming infant and compote-making, it hasn't always felt easy to make room for pretty clothes. This dress has made the room, though. In doing so, it's helping me reacquaint myself with, well, me, along the way.