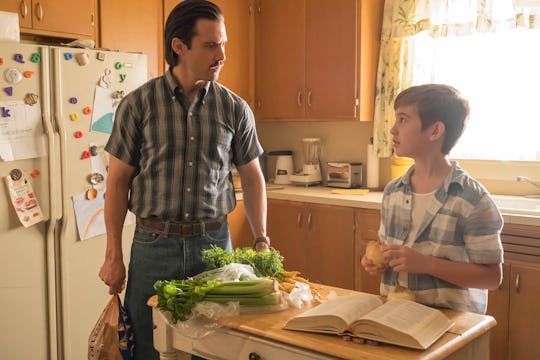 Ron Batzdorff/NBC
Kevin From 'This Is Us' Said The *Sweetest* Thing About Milo Ventimiglia & Mandy Moore
The adult actors on This Is Us may get a lot of the attention from fans, but the beloved NBC drama wouldn't be the same without the adorable kids who make up the youngest versions of Kate, Randall, and Kevin, aka The Big Three. They're an integral part of the show, providing background into what shaped the Pearson children into the grown-ups they are today. They're also the ones who get to work closely with both Milo Ventimiglia and Mandy Moore, who play the patriarch (Jack) and matriarch (Rebecca) of the Pearson household. And it turns out everyone's favorite TV parents' skills extend far behind that of their on-screen personas: Parker Bates, who plays the 9-year-old version of Kevin, recently spoke to Romper about his on-screen mom and dad and how he thinks Milo Ventimiglia and Mandy Moore will make great parents IRL.
Not that he calls them by their full names, of course. To him, they're simply "Milo" and "Mandy." (I know, NBD, right?) And the way he talks about them makes it clear they go above and beyond to make their young coworkers feel at ease, regardless of whether or not the cameras are rolling. "They're super cool," Bates explains to Romper. "Milo and Mandy, they both feel like actual parents and they don't have kids yet, but I think they'll make great parents."
It's a sentiment I don't think any This Is Us fan can argue with, but to hear it coming from the mouth of someone so young makes the comment all the more sweet. For his part, Ventimiglia has admitted to wanting children some day, telling The New York Post back in July 2017, "I'd love to have kids," while quickly adding, "I think it's more about having that right partner."
But while fans would undoubtedly love to see life imitate art, both Ventimiglia and Moore are currently in serious relationships — and no, not with each other. Ventimiglia is dating Kelly Egarian, while Moore is engaged to her boyfriend of two years, Taylor Goldsmith.
Regardless, when/if the time comes for them to have kids, they definitely have Bates' full stamp of approval. And considering how much time he spends with them both on set, pretending to be their child, I'd say he's pretty much an expert on the matter. And like any good parent, they are eager to see Bates grow in his craft as an actor and have even offered up some useful advice for him. "It's really cool because they give us a bunch of advice and they make sure that we have everything that we need for our scenes and they make sure that we get what we want on camera," Bates reveals.
What kind of advice, you may ask? Already some of their suggestions have proven to be very useful for Bates. "Milo usually says to really listen to the other characters and get involved in the moment because if you are just off in your own land then you don't know what's going on in the scenes," Bates recalls of their former chats. "And then Mandy usually says make sure you get what you want on camera because we can always go back and edit whatever you want and we've actually done that a couple times so it's really good advice."
But no words of advice could've prepared Bates for watching Jack's death on TV — an episode that he himself was hesitant to watch right away. "I couldn't really watch it because I was so sad," Bates admits. "I didn't watch it that night, but it was recorded, so we went ahead and watched it the other night because I wasn't ready yet." However, unlike those of us who are still emotionally scarred from that devastating episode, Bates had one big advantage to bouncing back quickly: he immediately got to see Ventimiglia back on set like nothing had happened. "After I saw [Jack's death], I saw [Ventimiglia] the next day when we were on set and I was like, 'OK, you're still alive, good.'"
Jack died from cardiac arrest due to excessive smoke inhalation, partly of which was caused when he decided to go back into the house to save Kate's dog and collect a few family possessions. He never stopped putting the needs and wants of his family first, and it's a habit Ventimiglia apparently shares as well. "One time on set I got hurt," Bates reveals. "[Ventimiglia] was the first one to come to me and make sure I was OK and then he picked me up until my mom got there."
Did anyone else's heart just grow three sizes bigger just now? Knowing that, it's little wonder why Bates thinks his on-screen mom and dad would make such great parents. They're clearly a lot more like Rebecca and Jack than even diehard fans like myself ever gave them credit for.