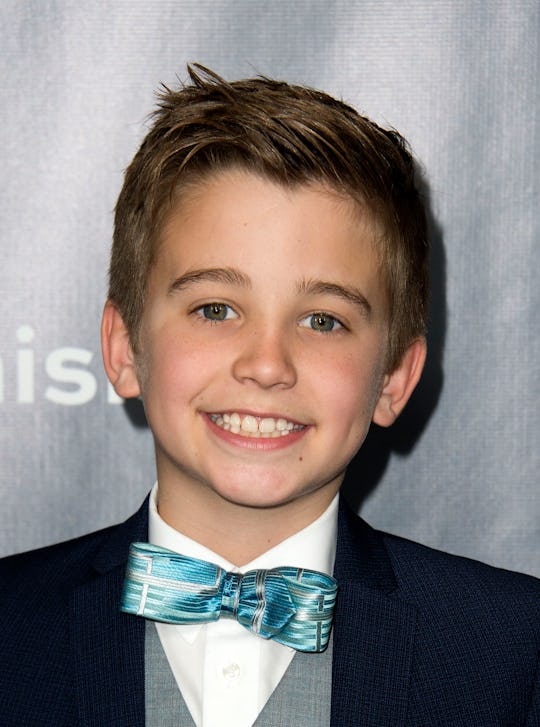 VALERIE MACON/AFP/Getty Images
It's Impossible Not To Fall In Love With Young Kevin On 'This Is Us'
I don't know if the best thing about This Is Us is the emotion is seems to elicit from fans literally every episode or the flashbacks that make you love every version of the characters, but the kids have been quickly ruling the show. And now that the young versions of Kevin, Kate, and Randall have been upped to series regulars for Season 2, fans may start to wonder who they are. So who plays Young Kevin on This Is Us? Parker Bates is basically stealing the show as the younger version of the insecure TV and stage actor, and as it turns out, this is his biggest role yet. Though from the way he's acted his heart out throughout Season 1 and pretty much nailed the person Adult Kevin later becomes, you would never guess that Bates is a newbie to the acting world.
According to Bates' IMDB profile, he was in a few shorts before landing the role of young Kevin on This Is Us and has since had a one episode role on Teachers and voiced a character on the animated series Tangled, but This Is Us is clearly where his priorities are for the time being. But, as seen on his Instagram account managed by his parents, Bates is also just a regular kid whose big brother Prestyn Bates is also an actor and might have gotten him interested in acting in the first place.
Parker hasn't been in the business very long of course, but he seems to know how to draw inspiration from those around him while creating Young Kevin in the show's flashbacks that fans have come to adore. As he told Entertainment Tonight, Parker likes to watch his older counterpart, Justin Hartley, onset to gain a better understanding of how his character is as an adult and use that to portray the younger version. Obviously, it's totally working for the young actor.
When he isn't basically writing his future career as an Emmy award-winning actor, though, Parker is enjoying time off-screen with his on-screen siblings. "We love to hang out on and off set. We go to the movies, out for ice cream, out to eat and to fun parties just like regular friends," he told the New York Post. "We spend a lot of time together and I think we will always be friends because we share this amazing experience together."
He also shared that he and Hartley spend time together off-screen as well. "When we get to hang out, we talk music, Legos, and movies," the young actor revealed. It definitely helps explain how well all of these actors already work together and how spot on some of these portrayals are of the younger versions of This Is Us characters.
On Parker's Instagram profile, you can see him enjoying some of the normal family things a kid his age should probably be doing, like going to sports games or doing yard work with his parents, which seems to keep him grounded enough.
Unlike co-star Mackenzie Hancsicsak, who plays the younger version of Chrissy Metz's Kate, Parker is home-schooled, which probably makes it easier to spend time with family while also working on-set and enjoying award shows when they pop up. But even though he's clearly fully ensconced in the life of a budding actor, Parker still seems like a normal kid at heart.
At just nine years old, Parker hasn't been in the acting game very long, but he's already managed to make an impact on This Is Us fans, who all pretty much love the younger versions of the adult characters. And now that he, along with most of the other younger actors, have been named series regulars for Season 3, we're likely going to be seeing a lot more of him in the years to come.
Watch Romper's new video series, Romper's Doula Diaries:
Check out the entire Romper's Doula Diaries series and other videos on Facebook and the Bustle app across Apple TV, Roku, and Amazon Fire TV.