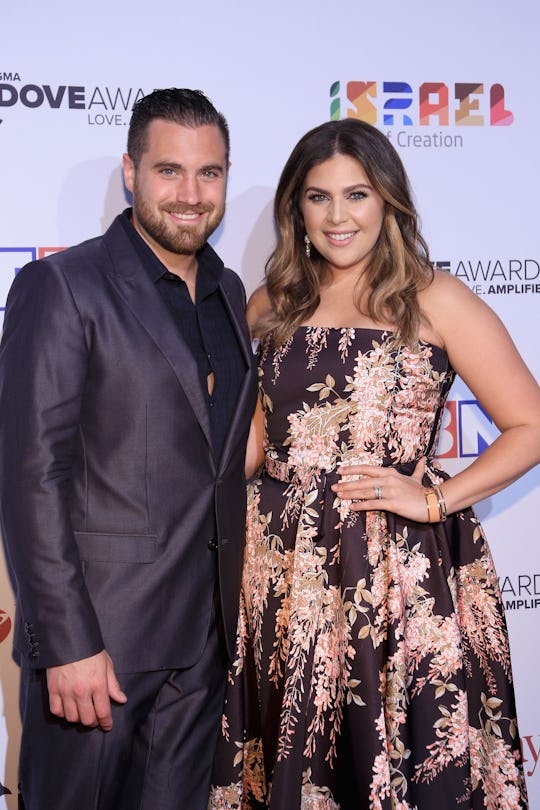 Anna Webber/Getty Images Entertainment/Getty Images
This Country Star Is Staying Home To Care For His Kids So His Wife Can Tour & Dads, Listen Up
Hillary Scott and Chris Tyrrell of country group Lady Antebellum recently welcomed two Baby Antebellums — and the couple is opening up about how the twins are going to affect the band. Drummer Chris Tyrrell will be stepping back from Lady Antebellum so that Hillary Scott, the band's lead singer, can go on tour with the group this summer. They announced the news in a profile for People on Thursday.
The married couple welcomed identical twin girls on Jan. 29, 2018. Scott announced the news in an Instagram post in early February, and a few days later, she shared another Instagram post revealing their absolutely adorable names: Betsy Mack and Emory JoAnn. The couple also has a 4-and-a-half-year-old daughter together named Eisele.
Lady Antebellum's next tour kicks off on July 19, as per the band's website, and they will play all over the United States and Canada through Nov. 3. Tyrrell told People he's looking forward to staying home with his children instead of embarking on the tour. "I've been a bandmate, employee, husband and dad, so I'm okay removing a hat," he told the magazine. "Besides, when you looked at whether the band could do without me or her, there wasn't much question!" he added.
Scott also added that she and Tyrrell are totally happy with their upcoming arrangement. "We feel at complete peace with the decision," she told People, adding:
We're both equipping each other to do exactly what we're supposed to be doing right now ... We just came to that agreement together. It was one of the easiest decisions we've ever made and the peace that we've felt since we made it has just been continual proof of it being the right call.
That being said, Scott acknowledges that life on the road will certainly be an adjustment from life with her family, but she is feeling confident about it being a good thing. "It'll hopefully be restful and efficient — I'm thinking about when we have writers out on the road to write for the next record," she told People. "I'll be able to be fully present and focused and hopefully get a lot of fun writing done."
And while this all seems like a sweet story (and it totally is), it's also pretty problematic that a man taking a break from work to care for his kids while his wife goes back to work is considered newsworthy. If the roles were reversed, would this still make headlines? The fact is, some moms choose to go back to work, and some moms choose to stay home. Some dads choose to go back to work, while some choose to stay home. As a society, there's still a stigma attached to men staying home with their kids, which is the result of persistent gender stereotypes — but perhaps Tyrrell and Scott's new arrangement will help combat that.
All that being said, the couple has a history of keeping their professional and personal lives very separate, which seems to work well for them. In 2012, shortly after Scott and Tyrrell tied the knot, the couple revealed that when Lady Antebellum tours, they do not ride on the same tour bus. Scott rides with the two other main band members, while Tyrrell usually rides with the other background musicians.
"He'll hop on the bus with me, Charles [Kelley] and Dave [Haywood] every so often, but he rides the band bus with the rest of our band, because he wants to stay in tune with them," Scott told Country Weekly at the time, according to Taste of Country. "There are conversations that Charles and Dave and I need to have, too. You have to separate it a little bit, and thankfully — knock on wood and praise God — it's been such a smooth transition."
It's clear that Hillary Scott and Chris Tyrrell have a super strong relationship, and it's awesome that they were on the same page when it came to arranging the baby's care during Lady Antebellum's tour.