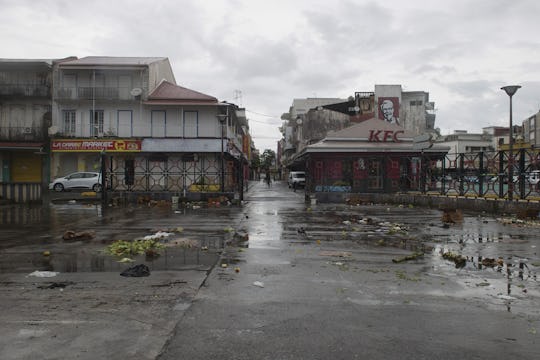 HELENE VALENZUELA/AFP/Getty Images
This Map Of Hurricane Irma's Path Over The Caribbean Is Horrifying
The Caribbean island of Barbuda is home to about 1,600 people, most of whom live in or around the capital city of Codrington. On a sunny day, the little town of Codrington must be exceptionally beautiful; flat enough to offer a beautiful view of the island's trademark unspoiled pink sand beaches. The whole island is at or near sea level, which means it has no buffer with which to protect its citizens from the full force of the massive Category 5 hurricane that made landfall in Barbuda on Wednesday. Maps of Hurricane Irma's path offer a bleak picture of just how catastrophic this storm could be for Caribbean islands like Barbuda.
Hurricane Irma is being touted as possibly the worst storm off the Atlantic in recorded history, with winds gusting up to 185 mph as it cuts a swathe through some of the smaller northern and eastern Caribbean islands. For reference, Hurricane Harvey, the tropical storm that caused destruction throughout several counties in Texas and left at least 60 people dead, was a Category 4 hurricane. And the damage it caused, particularly in the heavily-flooded Houston area, will take considerable time and effort to eventually repair. Small, relatively flat islands throughout the Caribbean like Barbuda and Antigua (both of which were in the eye of the storm as of Wednesday morning), St. Kitts and Nevis, Puerto Rico, Dominican Republic, Haiti, and St. Martin are anticipating life-altering destruction.
NASA also released a satellite image of Hurricane Irma on Wednesday, as the storm progressed through the Caribbean.
There are measures underway to evacuate some islands in the Caribbean; Air Canada, West Jet, and Air Transat have all sent extra planes to the Dominican Republic and Turks and Caicos to evacuate people who could otherwise become trapped by the storm, according to CBC, and are bringing evacuees to the Canadian cities of Toronto and Montreal. Bahamas Prime Minister Hubert Minnis began evacuation procedures for several small Bahamian islands in the path of the storm. But unfortunately for the islands of Barbuda and Antigua, the storm has already hit. Keithley Meade, director of a meteorological office in Antigua and Barbuda, told CNN that Barbuda was "so badly damaged that there is no communication."
Residents of Antigua, sister island of Barbuda with a population of 80,000, have been taking to social media to express concern for their neighbors, according to The New York Times, as phone lines are down and the entire island remains unreachable.
Other islands, like St. Martin, report devastating damage already with flooding, powerful winds, and power failures.
Meteorologists tracking the storm are predicting that Hurricane Irma could potentially end up near Florida as of this weekend. While there remains considerable uncertainty as to where Irma might land, CNN meteorologist Dave Hennen noted that "All possibilities are still on the table for impacts to the US."
With that in mind, President Trump has issued a state of emergency for Florida, Puerto Rico, and the U.S. Virgin Islands. The Florida Keys are being evacuated on Wednesday with the help of the United States Navy. Schools in several Florida counties are closing their doors on Thursday and Friday, as residents stock up their homes, bracing for the worst.
For islands in the Caribbean, which most of us generally consider to be close to paradise, the worst is happening. And they will need all the help they can get.
Check out Romper's new video series, Romper's Doula Diaries: