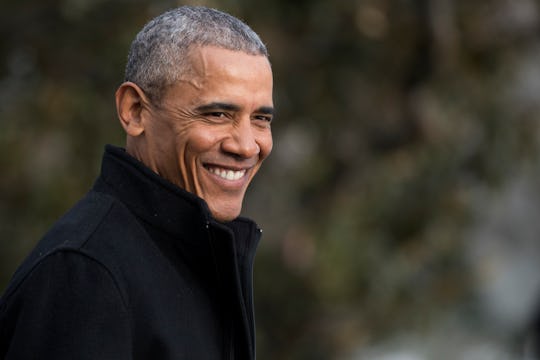 Pool/Getty Images News/Getty Images
This Mom Meeting Obama With Her Baby Is All Of Us
Imagine it: You're sitting in the airport, waiting for your flight to board, and then — all of the sudden — you see the 44th President of the United States, Barack Obama, in the distance. Like most people, you'd probably have to do a few double takes and maybe give yourself a quick slap on the cheek so you know you're not hallucinating. While we can't say for sure what exactly happened beforehand, this mom meeting Obama with her baby did what all of us would do.
According to the Associated Press, Jolene Jackinsky, a mom of a 6-month-old daughter from Alaska, met the president at Anchorage International Airport on Monday while she was looking for an airline and found herself in a "waiting area for private flights." And it was there where she spotted a man who looked just like Obama.
"As I got closer, I thought: Oh my God, it is Obama," Jackinsky told the Associated Press on Friday. And she wasn't the one to approach him. The star-struck mom reportedly said that Obama walked up to her and asked about her adorable daughter, Giselle.
"Who is this pretty girl?" Obama reportedly said to Jackinsky, according to the Associated Press.
And, don't worry, she's got photographic evidence and, boy oh boy, it's cute:
"I think it's unreal and pretty exciting that I get to have a picture with him and my baby," she told the Associated Press. "Not a lot of people get to meet him."
They reportedly chatted about parenthood and how quickly time flies when you have kids. Jackinsky also told the Associated Press that as the baby girl's father came by, Obama jokingly said: "I'm taking your baby."
Not only did this lucky mom get to take a few selfies with Obama, but she also engaged in some light-hearted banter with the former president. Talk about a win.
Sure, Obama is remembered for countless things — like his health care policies and legislation that protects trans children in school bathrooms — but there's one thing that will forever be ingrained in our hearts: He simply loses it when a cute kid is around.
Remember when he broke out in laughter when a kid in a Pope Halloween costume drove up to him and asked for candy or the time when he let a curious little boy touch his hair to see if it felt the same? Of course you do. Now with Obama's meet-and-greet with little Giselle and her parents, we have one more adorable moment to add to that memorable list.