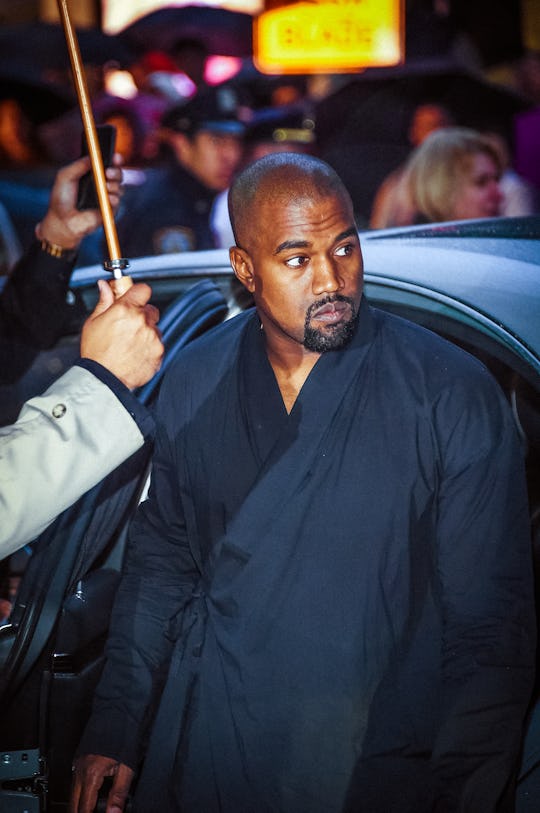 Mike Coppola/Getty Images Entertainment/Getty Images
This One Lyric About Bipolar Disorder From Kanye West's 'Ye' Is So Important
Friday morning, Kanye West fans were treated to a new album, titled Ye, with all seven songs available for free streaming on Spotify. Twitter is obviously in a frenzy, analyzing the whole album — but one lyric about bipolar disorder from Kanye West's Ye is causing a big conversation.
At the end of "Yikes," the second song on the album, West's outro is as follows: "That's my bipolar shit, n*gga what? / That's my superpower, n*gga ain't no disability / I'm a superhero! I'm a superhero!"
This lyric seems to confirm that West has bipolar disorder, a mental disorder where people experience "elevated or irritable mood accompanied by dramatic increases in energy, activity, and fast thinking," WebMD reported. Symptoms of the first phase, aka bipolar mania, include euphoria, irritability, racing thoughts, increased self-esteem, excessive energy, and impulsiveness. Symptoms of the second phase, aka the depression phase, include a depressed mood, low self-esteem, low energy, loneliness, fatigue, insomnia, and suicidal thoughts (the last of which West discusses in the opening track, "I Thought About Killing You"), WebMD reported.
Many took to Twitter to share their feelings on West's treatment of his disorder as a superpower instead of a disability. Several people praised the lyric, suggesting that it is helping them look at their bipolar disorder in a different way.
However, some people who also have bipolar disorder did not see the lyric in the same way, explaining the potential pitfalls of West's treatment of bipolar disorder on the album.
Someone suggested that the attitude expressed in the lyric is a symptom of bipolar disorder.
Others appreciated that Kanye dropped the album just after the conclusion of Mental Health Awareness Month (which was May).
But some people rolled their eyes at West's signature narcissism.
Regardless of how people feel about West referring to bipolar disorder as a superpower, the fact that he is talking about bipolar disorder at all is pretty significant. While it's totally understandable for someone to want to keep a disorder private, it's also great when people with influence such as West share that they have bipolar disorder, as it helps fight the stigma that it needs to be kept private. Additionally, his lyric has clearly spurred a discussion about bipolar disorder on social media, which helps normalize the disorder and educate those who do not know about it.
This lyric is not the only mention of bipolar disorder on Ye. The album cover features a photo of mountains, and it reads: "I hate being / Bi-Polar / its awesome."
According to a tweet by Kim Kardashian, West took the photo on his iPhone on his way to the album listening party in Jackson Hole, Wyoming.
Unsurprisingly, this was not the only controversial lyric on Ye — or in the song "Yikes." Earlier on the track, there is a reference to the Me Too movement. West raps:
Russell Simmons wanna pray for me too / I'ma pray for him 'cause he got #MeToo'd / Thinkin' what if that happened to me too / Then I'm on E! News
Russell Simmons is a co-founder of Def Jam Records. After West publicly announced his support of Trump in April, Simmons wrote on Instagram that "Kanye West is suffering, he is unraveling in public," adding that it was "time for intervention," Vibe reported. Earlier this year, aspiring filmmaker Jennifer Jarosik launched a $5 million lawsuit against Simmons for allegedly raping her in 2016, NME reported, and it seems like West is using that to challenge Simmons here. West's lyric could be interpreted in multiple ways. Is he really praying that Simmons is found innocent in his lawsuit? Or is he "praying" for Simmons in the same patronizing way Simmons prayed for West? Additionally, why is West thinking "what if that happened to me too?"
Ye wouldn't be a Kanye West album if it didn't spark conversations about contentious topics, so congrats to West on at least achieving that.