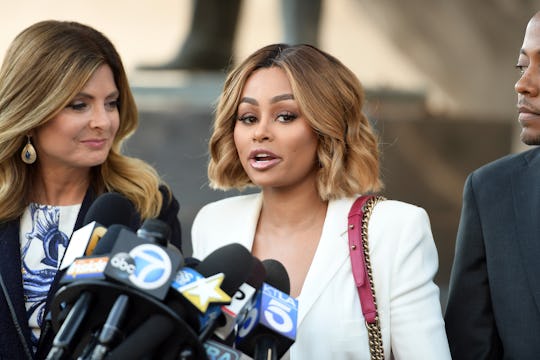 Matt Winkelmeyer/Getty Images Entertainment/Getty Images
Read This One Quote From Blac Chyna's 'GMA' Interview
On Monday, Blac Chyna appeared on Good Morning America to speak out on her recent issues with ex-fiancé Rob Kardashian. In a preview of the interview, which will air in its entirety on ABC's Nightline Monday evening, Chyna discussed everything from Rob's alleged violation of California's revenge porn laws to her relationship with the Kardashian family. Although there were a lot of emotional moments in the preview to analyze, this one quote from Chyna's Good Morning America clip is especially heartbreaking. Rob's representative did not immediately respond to Romper's request for comment regarding allegations about revenge porn or allegations that he defamed Chyna. He currently does not face any formal charges, though Chyna and her lawyer Lisa Bloom did successfully secure a restraining order against him on Monday morning, according to TMZ.
As one might imagine, Chyna has been through a lot this past week. Given Chyna's tough situation, reporter Linsey Davis felt it reasonable to ask her if the Kardashians have reached out to offer their support.
In response to Davis' question, Chyna simply said:
No ma'am.
Although Chyna's claim in itself is heartbreaking, it's especially heartbreaking when you consider the public's obsession with implying Chyna has been after the Kardashian name and brand for years. The Kardashians' representative did not immediately respond to Romper's request for comment.
In the clip, Davis touched on this hurtful issue when she asked Chyna if there was any truth to the allegations that she used Rob for "fame and fortune," according to E! Online.
In response to Davis' question, Chyna gave this heartbreaking response, according to CNN:
I was already Blac Chyna before the Kardashians.
There's a lot to unpack in Chyna's answer to Davis, so let's jump right in. The fact that Chyna is repeatedly forced to establish and reiterate her identity outside of the Kardashian name is just sad. For those that don't already know this information, Chyna carved out an admirable career for herself when she was just 22 years old.. In addition to landing countless modeling gigs and a lucrative job as a dancer at the famed King of Diamonds club, she also graduated from JLS Professional Make Up Artist School in 2013, according to Cosmopolitan.
Following Chyna's graduation, in 2014 she opened up LASHED beauty salon in Encino, California. Not only is LASHED still successful three years later, but Chyna continues to be actively involved in her business.
According to Livingcivil.com, Chyna said:
Do everything the right way. Don't try to bypass and do it at your own time and own speed, and don't let anybody tell you about your business.
Now that you're up to speed on Chyna's professional achievements, it's easy to see why the Kardashians' lack of support following Rob's online tirade is problematic.
What's painful about this allegation is that Chyna can't even garner sympathy from the family she's incessantly linked to on and off camera. To make matters worse, Chyna and Kim Kardashian had a friendship before she got into a relationship with Rob. In case you forgot, Chyna attended Kim's wedding to Kanye West in May 2014.
To take this situation even a step further, there were reports that the Kardashians were angered by Rob's online assault against Chyna. According to TMZ, the Kardashians felt Rob had "crossed a line" by posting nude photos of Chyna to Instagram. One would think the Kardashians would offer some form of support to Chyna if they felt disturbed by Rob's actions.
On the other hand, it's possible that the Kardashians' legal team advised the family to remain silent on the situation. Considering Chyna is seeking a restraining order against Rob, according to USA Today, it's not unlikely this is the case.
No matter what happens down the road, there will always be fans that think Chyna exploited the Kardashian family for so-called "fame and fortune." It's a heartbreaking reality when you consider Chyna worked really hard to establish her own identity and career outside of the Kardashians. Although the Kardashians may reign supreme in television ratings and tabloid magazines, it's clear Chyna is the one winning the game of self-worth.