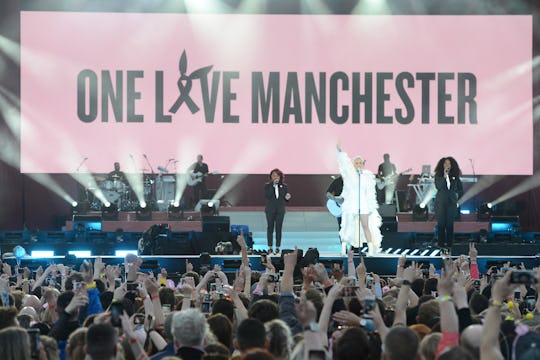 Getty Images/Getty Images Entertainment/Getty Images
This Photo From One Love Manchester Is Perfect
When an unspeakable tragedy happens, it presents an opportunity for people to unite together in kindness and to display strength in the face of adversity. In the weeks following the Manchester bombing on May 22, the world observed countless moments of tenderness and moving displays of support as the heartbroken city began the healing process. Although the pain is still quite fresh for many, the strong residents of Manchester have chosen love over fear time and time again. Not only will this photo from the One Love Manchester Concert warm your heart, but it will also restore your faith in humanity.
Following the devastating suicide bombing at Ariana Grande's concert, the world wondered how Manchester would pick up the pieces. One of the first steps in presenting a united front was devised by Grande, who organized a June 4 benefit concert aptly called One Love Manchester for the victims and their families. Just a few days after the tragedy, Grande enlisted Miley Cyrus, Katy Perry, Coldplay, Justin Bieber, Pharrell Williams, Mac Miller, and more to lend their support at the concert.
Although the concert saw many emotional moments from Grande and her fellow performers, an especially tender incident occurred outside of the music venue. In an incredibly touching moment, a police officer manning the concert took a moment to dance with a group of young girls. To make matters even more emotional, it appears the dance is a version of "ring–around–the–rosy," a perfect testament to childhood and innocence.
Take a look at the heartwarming photo below:
If that photo isn't touching enough, a user on Twitter also shared a video of the dance:
Considering the bombing caused many young people to lose their lives, this video of girls enjoying themselves is especially powerful. Not only does it exemplify the unbreakable spirit of Manchester, but it also portrays the strength of young women. There's also something special about a grown man, especially one of authority, taking the time to engage in such a sweet display of support.
Following the image and video's release, many people took to social media to express their admiration of the scene:
Furthermore, this moment is especially poignant in light of President Donald Trump's attack against London Mayor Sadiq Khan for urging his residents not to be "alarmed" over increased police presence following the London Bridge attack on June 3, according to CNN. Although Trump grossly misinterpreted the message in an attempt to make a political statement, it's obvious this dance is more akin to what Khan was referring to in his message. The police officer dancing with young concertgoers not only proves that the United Kingdom is strong, but it also demonstrates the importance of placing love and unity over fear. This heartwarming photo will most likely become one of the defining images of Manchester's path to healing as time goes on.