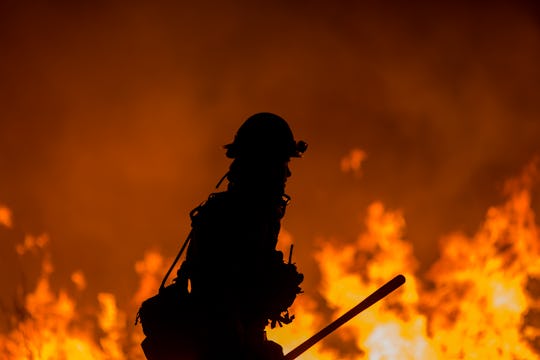 David McNew/Getty Images News/Getty Images
This Photo Sums Up 2017, & It Will Make You Super Emotional
As the new year approaches, it's tempting to dismiss 2017 as a raging catastrophe and hope that, somehow, the near future will be a little less awful. After all, that's what much of the country did at the end of last year, which closed out with the presidency of Donald Trump looming. Well, now the presidency is nearly a year old itself, and in many ways, that means that 2017 was undeniably terrible. Still, I think that the photo that sums up 2017 most accurately is one that offered a bright spot in an otherwise desperate situation. And, as an added bonus, it is pulled from your favorite viral video du jour: that searing, uplifting image of a young man saving a wild rabbit from one of those devastating Southern California wildfires.
Considering that 2017 was the year that the actual president actually supported actual white supremacists rallying on the streets of Charlottesville, Virginia, and that Congress once again did nothing to enhance gun safety laws after a gunman slaughtered nearly 60 people attending a concert in Las Vegas, it would be easy — no, logical — to call a photo of the destructive wildfires in California the image of 2017. After all, much of the political ills that earned 2016 its unenviable "dumpster fire" designation ran rampant in 2017, too. With Trump actually in office, in fact, rather than just running for it, it was kind of worse. Why not upgrade from "dumpster fire" to barely controlled, homes-and-land-destroying fire fires?
But I do think that 2017 was a bit more nuanced than that. Which is why, in my opinion, a still from the viral video of a man, later identified as 21-year-old Caleb Wadman, saving the bunny from the side of the road as the fire threatens to engulf it is more emblematic of the year. It's simple, not to mention a bit ham-fistedly metaphorical: The fire is the unending laundry list of sh*tty stuff that crowded the headlines and kept us up at night over the course of the past year, and Wadman represents all the people who still are and want to do good, and to help others.
Even within the context of the devastating California wildfires there are examples: Wadman brought the bunny to a veterinary facility where it was treated for burns, given pain medication, and is now doing well, BBC News reported. Firefighters continue to put themselves at risk to get the fires under control.
Likewise, for almost any act of depravity 2017 hit the nation with, there was hope in the form of people willing to defend themselves and one another, to stick up for decency and what's right. Trump's first full day in office went down in history because of the countless Women's Marches that drew unprecedented crowds from around the world. When the Nazis marched in Charlottesville over the summer, for example, a gigantic, peaceful crowd opposing their mission overtook their planned Boston rally soon after. When President Donald Trump announced that he would ban people from several Muslim-majority nations from entering the United States, Americans flocked to airports all over the country to protest the move.
The list goes on: Activists and grassroots organizations succeeded in convincing key senators to kill the Republicans' effort to dismantle the Affordable Care Act. In November, Americans across the country issued a referendum of sorts on the Republican White House when Democrats swept the first statewide elections since the presidential election. Most recently, the reliably red state of Alabama elected a Democratic senator rather than send Roy Moore, who has been accused of (and denied) sexually harassing and assaulting a number of young girls, to Washington.
So, I'd never made the argument that 2017 was good, or even OK. But I do think that much of the country proved that, despite everything, there are enough Caleb Wadmans amid this wildfire of a time to get us through.