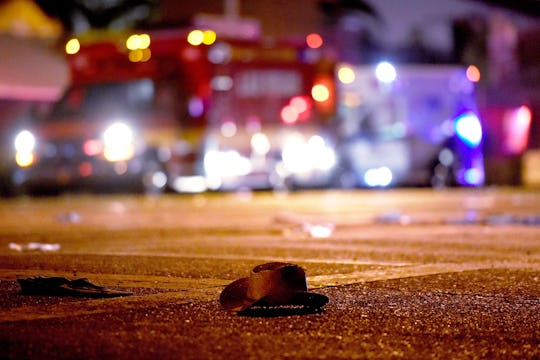 David Becker/Getty Images News/Getty Images
The Las Vegas Death Toll Shows It Is Officially The Deadliest Mass Shooting In US History
Update (11:49 a.m.): The Associated Press has reported that the official death toll from the Las Vegas shooting has risen at 58, with at least 515 people injured.
Update: As of 6 p.m. ET on Monday, Oct. 2, CNN reports that 59 people have died and over 500 people were injured. Authorities say the suspect had 18 additional firearms, explosives and several thousand rounds of ammo at his home in Mesquite, Nevada.
EARLIER: America has been stunned Monday morning as the news that at least 50 people were killed and another 400 injured when a gunman fired upon a crowd of concertgoers at Las Vegas, Nevada, late Sunday night. The Las Vegas death toll shows the tragedy has become the deadliest mass shooting in U.S. history, surpassing the number of dead at the Pulse Nightclub shooting in Orlando, Florida. It has been only 16 months since the U.S. just outdid itself with mass shooting death toll records.
Earlier Monday morning, Clark County Sheriff Joe Lombardo confirmed to The New York Daily News that one of the first fatalities was an off-duty police officer, whose identity has not yet been released. According to WSMV in Nashville, Tennessee, 29-year-old Sonny Melson, a nurse, was killed in Sunday night's shooting, one of the first victims to be publicly named. Melson and his wife Heather attended the Route 91 Harvest country music festival together. Heather told the news station that her husband saved her life, "He grabbed me and started running when I felt him get shot in the back. I want everyone to know what a kind-hearted, loving man he was, but at this point, I can barely breathe."
The shockingly high death toll from Sunday's mass shooting in Las Vegas was in large part due to the huge gathering on the green adjacent to the Mandalay Bay Hotel. According to The Guardian, as many as 22,000 people were in attendance at the Route 91 Harvest festival. The shooter, a 64-year-old man who died by self-inflicted gunshot, sprayed the concert-going crowd on the green below from the window of his 32nd floor hotel room.
Additionally, officials discovered 10 rifles in a massive cache of weapons in the suspect's room at the Mandalay Bay. While no official description of the rifles has yet been given, harrowing eyewitness footage from concertgoers indicates that the gun used was either automatic or semi-automatic, given its high rate of fire. These high ammunition capacity rifles would also account for the sickeningly high death toll and injury count, which officials expect to rise. There are no restrictions on large capacity magazines in Nevada, a state with lax gun laws to begin with. Meanwhile, the National Rifle Association hasn't responded to the Las Vegas shooting — yet.
Following the shooting, Clark County hospitals have been inundated with patients pouring into their emergency departments. Danita Cohen, a spokesperson for the University Medical Center in Las Vegas, told Good Morning America there are upwards of a dozen hospitals local to the Las Vegas area. "I'm of the understanding that all hospitals received patients although I can't confirm what other hospitals receive," Cohen said. UMC is a level one trauma center, and Cohen remarked on the hospital's ability to respond to such an event, but that even they were stunned at the number of people who came into the ER: "Thankfully we're ready, willing, and trained for mass casualties. We have a full trauma team in house 24/7 around the clock. Typically not with this many patients."
With such a massive number of injured patients, Las Vegas officials have called upon locals to donate blood, as units will be needed in the coming days to help treat the injured.
Sunday night's mass shooting in Las Vegas follows similar high profile shootings at music concerts, such as the 2015 Bataclan concert massacre in Paris, France and most recently, the Manchester, England attack at an Ariana Grande concert this past May. However, the FBI announced Monday afternoon that the Las Vegas shooting had no connection with an international terrorist group.