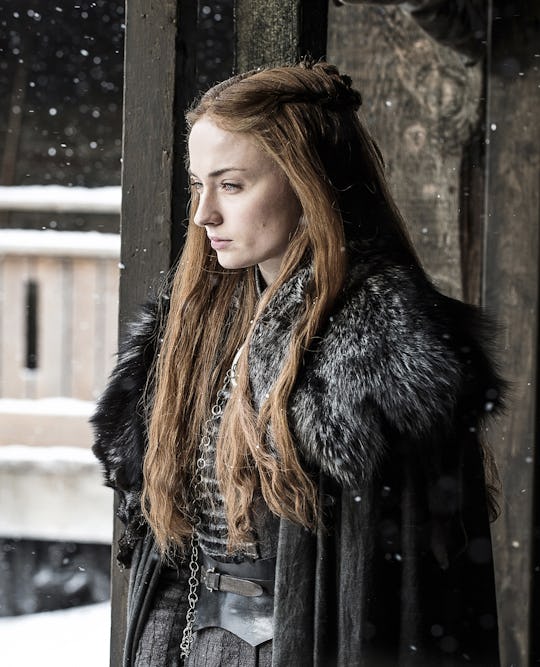 Helen Sloan/HBO
The Sansa & Arya Theory On 'Game Of Thrones' Ties In "No One" In The Perfect Way
At the end of Season 6, when Arya told Jaqen H'ghar, "A girl is Arya Stark of Winterfell, and I'm going home," viewers everywhere let out cheers of excitement that finally, after six seasons of being away from Winterfell, Arya was finally going to go home and embrace her Stark heritage once again. But after her extensive training at the House of Black and White, this Sansa and Arya No One theory on Game of Thrones might be accurate in its true reason for Arya finally returning to Westeros.
During the epic Season 6 episode "Battle of the Bastards," Jon insisted that he would protect Sansa from Ramsay Bolton and that she no longer had anything to fear from him. But instead of playing the relieved damsel in distress, Sansa replied, "No one can protect me. No one can protect anyone."
Now, I totally get her pessimism because homegirl has had it worse than almost anyone currently living on Game of Thrones and at this point, she has every reason to trust in no man and really, in no person. Except for maybe Brienne, always trust in Brienne. Anyway, when Sansa said it she obviously didn't know that her own little sister had trained to be "No One" even though Arya denounced her allegiance to Jaqen H'ghar.
Could this have been a way for Game of Thrones to foreshadow that maybe Arya is meant to return to Winterfell to be her sister's protector? If anyone can outsmart and kill Littlefinger, it would be Arya, right? Of course any Winterfell soldier could kill him at the drop of a hat, but Arya has proven herself to be a master with her apparent bag of faces.
In a perfect world. Arya would somehow have Catelyn Stark's face and put it on to confuse the Hell out of Littlefinger before finally killing him. He might not be on Arya's kill list officially, but he did play a role in getting Ned executed back in Season 1. If Arya finds out about that, I can definitely see him added to her dwindling list.
But even if Arya arrives at Winterfell to act as Sansa's partner in holding things down while Jon's away or keeping her safe, the Sansa and Arya No One theory means that Arya wouldn't be going home just for the sake of getting back to her roots. Instead, it would mean going home for a real purpose.