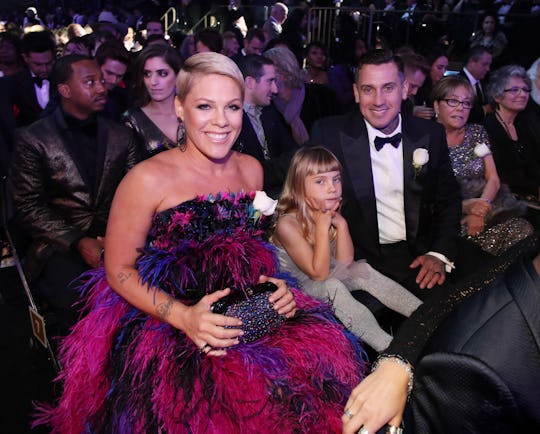 Christopher Polk/Getty Images Entertainment/Getty Images
This Video Of Pink's Daughter Snoozing In The Middle Of Her Concert Is Hilariously Relatable
I feel like if my mom was a huge rockstar with millions of adoring fans, I probably still wouldn't have listened to her when she told me to finish my vegetables before dessert. That's why this adorable video of Pink's daughter at her concert, totally falling asleep on her dad Carey Hart's lap while her mom is rocking out is cracking me up. Kids are really kids, no matter who their parents are.
On Tuesday, Pink posted a video that her husband took at her Dallas, Texas concert. It shows 6-year-old Willow in huge noise canceling headphones totally unable to keep her eyes open. She keeps nodding off and then waking herself up, at one point even smiling at her dad who's probably laughing. She's so cute. Pink captioned the photo, "I really rocked that sh*t tonight," obviously referring to the fact that her daughter really does not care at all about all the acrobatics and good tunes going down on stage.
People on Instagram ate it up. One fan commented on the video, "Oh she's such a princess. ..reminds me of my kids going to sleep in the highchair while eating." And it really does look like that. Another added, "Lol! My 5 year old will hopefully stay awake when I take her June 1st." Yea, I mean, Willow gets to go for free. Spending money on a seat for a 5-year-old is just asking for it. It's not easy staying up for a concert.
Others marveled at how mundane a show must be to Willow. "Imagine seeing so many pink shows you could fall asleep during one. Amazing," they wrote, adding a laughing emoji so everyone knew they were joking.
To be fair, that kid has seen a ton of live Pink performances. The performer famously brings her whole family on tour with her so that they can be close while she hits the road for fans, but that means that Willow is probably begging her dad for the iPad and some Netflix. Which is fair.
But Willow tends to be really down-to-earth about this whole fame thing. When she, her brother, and mom graced the cover of People magazine earlier this year, she wasn't into the extra attention. She just wanted more ice cream, according to Pink's caption on the family photo.
Pink kicked off her Beautiful Trauma World Tour earlier this year and the kids have been there the whole time. In March, the performer posted a picture of her and her kids getting glammed for the stage. People loved that one, too, commending the singer for mixing the personal with professional all the time. "I love this pic....just a mom doing her job. Loving life and her babies," one commenter wrote.
Another added, "Beautiful family great mom!!!" I mean, I know it's debateable about whether or not women can (or should strive to) have it all, but Pink is pretty much the definition of that right now. It's really inspiring to watch.
That doesn't mean that it's easy. Pink said in her behind-the-scenes film, On the Record: P!nk — Beautiful Trauma, that she worries about "doing everything." According to People, she said:
I would like to put everything I am and everything I have into everything that I do. I'd say the hardest part is just trying to figure it all out. I signed up for this when I was 16 and now I have children and I have a marriage. I just want to always make sure that I'm doing right by them. It's not a simple puzzle anymore — it's not just me.
Pink went on to explain, according to People, "It's rehearsals and it's putting on shows and then your 6-year-old has surf camp and your 8-year-old has a vaccination and then your album's out." On camera, her husband corrected her about the slip up — her baby Jameson is 8 months old, not 8 years old. Which totally proves her point about juggling everything. Nothing is 100 percent perfect, ever.
But if that means that Willow nods off with her dad while her mom finishes up her night shift, so be it. Willow might not think her mom's concerts are all that fun, but it's obvious that she adores the woman who takes care of her every day.
Check out Romper's new video series, Bearing The Motherload, where disagreeing parents from different sides of an issue sit down with a mediator and talk about how to support (and not judge) each other's parenting perspectives. New episodes air Mondays on Facebook.