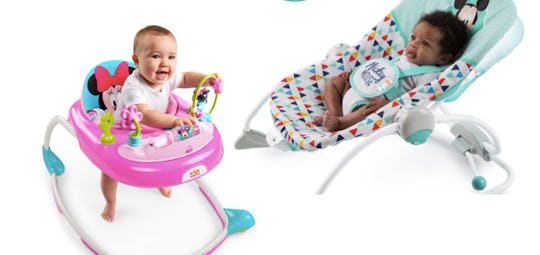 Walmart
OMG, You Can Get A Disney Rocker *And* Walker For Just $33 At Walmart
For many moms, baby gear is essential for not only enriching her baby's day and giving them something fun to do in addition to eating, sleeping, and pooping, but it allows moms to be able to set their baby down for one second. But baby gear can definitely get pricey depending on what you get and where you get it. If you're preparing for a baby and love Disney, check out this Walmart Disney rocker and walker deal. You can get Minnie or Mickey — and save $54.75. That is some major savings right there, and what's not to love about that? This awesome "Baby to Big Kid Bundle" is not only adorable, but super affordable. At $33, you can get a rocker for your infant and a walker for when they're 6 months old and up. That's right — $33.
According to the manufacturer, the rocker holds up to 40 pounds, and can rock back and forth, or just be stationary with vibrations. It includes two interactive toys — a sunshine and a Mickey for the Mickey bundle, and a flower and Minnie for the Minnie bundle — and it has a "removable toy bar" so you can take it off to easily pick up your baby. Additionally, the rocker has a "two position recline," so you can get that perfect position that your baby loves. Plus, all of the baby gear is adorable to boot, with the Minnie rocker's pink and teal color pattern, and the signature Mickey teal and red. Another perk — when you lay your baby into the rocker, depending on their height, the positioning makes it look like they have mouse ears. I cannot handle the cuteness right now. Plus it converts into a rocking chair for when your baby gets a little older.
As for the walker, your baby can use it safely until they are 26 pounds, and it comes with "an electronic toy station" where your child can play and interact with Minnie (or Mickey). The Minnie toy station has Minnie Mouse and adorable pink and green flowers, along with things to roll and press. And the Mickey toy station has some super cute Mickey ears complete with Mickey and a mirror, as well as buttons to push and toys to roll, giving your child some interactive play time. You can remove the toy stations and put them on the ground for playtime, too. It's pretty versatile. And the walker grows with your child as it has three different height positions.
And the very best thing about both of these products? You can remove the padded parts and wash them in the washing machine if they get gross. (If. More like when.)
These two baby gear items originally retail for $87.75 together, and at just $33, you're saving $54.75 — and that savings is nothing to sneeze at. Moms love rockers because of the hand-eye coordination it encourages, and for the (sort of) freedom it gives them to do things around the house, or even showering, all while their baby is safe and snug in the rocker — as long as it has a five-point safety harness, which the Disney rocker does. So be sure to head over to your local Walmart as soon as you can. I have a feeling this awesome deal isn't going to last, or they'll sell out of them quickly. You can also order online and have it shipped to your house in two days. Enjoy the cuteness and whimsy that only Disney can provide and rest assured knowing your kid is developing hand-eye coordination skills and will be having fun chilling out and feeling the vibrations while you get stuff done.
Check out Romper's new video series, Bearing The Motherload, where disagreeing parents from different sides of an issue sit down with a mediator and talk about how to support (and not judge) each other's parenting perspectives. New episodes air Mondays on Facebook.