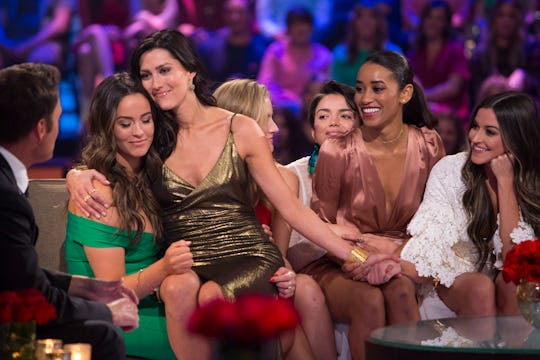 Paul Hebert/ABC
Tia & Becca's Friendship After 'The Bachelor' Will Be Tested
Despite what you may think after learning that Colton Underwood dated Tia Booth before going on Becca Kufrin's season of The Bachelorette, it's unlikely that the story behind it all is very dramatic or malicious. In fact, Tia's comments about Becca as The Bachelorette prove that the women clearly have respect for each other and just because Tia happened to briefly date one of the contestants, it doesn't mean that there's any bad blood between Becca and Tia now.
Before Becca was officially announced as The Bachelorette, but right around the time when Arie's break-up with her was aired and things were intense and sad all at the same time, Tia talked about her feelings regarding Arie and Becca on Extra and it was clear that she had only high hopes for her friend's future in the franchise.
"There have been a few moments where I've wanted to light [Arie] on fire a little bit for hurting Becca," Tia jokingly admitted. She also said that she's remained close to Becca since filming The Bachelor, which makes sense since she's due to pop up on The Bachelorette this season and help make things extra awkward with Colton also there. But as far as Tia's thoughts and comments on Becca as the Bachelorette, she's been totally supportive.
In April when Entertainment Tonight's Lauren Zima tweeted about Becca on The Bachelorette and her season being just one month away, Tia was quick to retweet her and add of Becca, "She's actually the cutest human." Despite being good friends with both Becca and Arie's now-fiancée, Lauren Burnham, Tia has managed to remain loyal to them both and on a show as competitive as The Bachelor, that's really saying something.
The fact that Tia is ready to show up and be there for Becca on this season shows that she's totally supportive of her as The Bachelorette, even if there were rumors that Tia was hoping to land the gig herself after her time on The Bachelor ended. Unfortunately though, since Becca was likely busy with preparations for The Bachelorette, she hasn't had as much time as some of the other former Bachelor contestants to spend time together and as a result, there aren't many photos of Becca on Tia's Instagram and vice versa. It's entirely possible, then, that the two women aren't exactly BFFs, but that they're still close after going on The Bachelor together and because of that experience, Tia is supportive of her.
Then again, Becca now knows that Tia had a brief romantic relationship with one of her contestants and if this is news to Becca, then Tia likely kept quiet about the whole thing. The whole Colton/Tia/Becca drama sort of throws a wrench in that empowering friendship the two women seem to have, especially after Tia was one of the women who hurried on-stage to sit with Beca as she was announced Bachelorette on After the Final Rose. According to Colton on The Bachelorette week two episode, he spent a weekend with Tia before he came on The Bachelorette and since the timing was wrong for them, their relationship didn't last beyond that weekend together.
But if there's more to the story, Becca and Tia could find themselves clashing over a guy in the coming episodes, especially if there are some real feelings there. So far, it's entirely possible that Colton and Tia's fling was just that and that they're both totally over it and ready to move on, but something tells me that when Becca confronts both of them together on a group date from Bachelorette Hell, things might get pretty real.