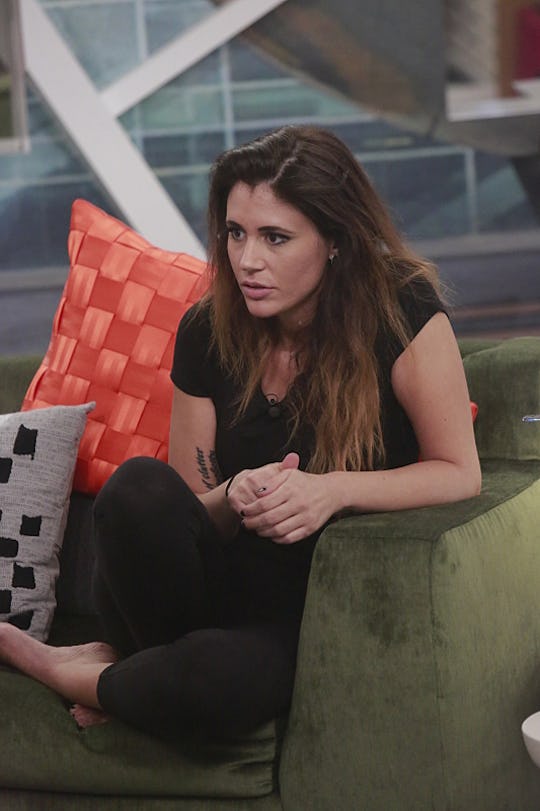 Bill Inoshita/CBS
Tiffany Nominates Da'Vonne On 'Big Brother 18', But It Probably Won't Save Her
When Corey took himself off the block on Wednesday's episode of Big Brother, it was anyone's guess as to who could have gone up in his place, at the hands of Tiffany. And Da'Vonne would have been safe, had she not acted super weird after the Veto competition, but her behavior was her own undoing. But the thing is, Tiffany nominated Da'Vonne on Big Brother 18 even though it probably won't save her. The majority of the Big Brother house is heavily behind Paulie, and his group of minions includes Mama Day herself, so just because she's up for eviction doesn't mean that anything will actually come from it.
As it stands, Paulie has Nicole, Zakiyah, Corey, Paul, and Da'Vonne on his side. That leaves Tiffany, Frank, Bridgette, James, and Natalie. Everyone standing behind Paulie right now is also in support of Da'Vonne, and honestly the rest of the house's opinions are kind of up in the air anyway. Frank and Bridgette certainly seem like they're there for Tiffany right now, but Frank has been known to lie (duh) and his sidekick will likely be swayed by whatever he wants to do. Unfortunately, though, no matter who Tiffany nominated on Big Brother, she would have remained the main target for the houseguests come eviction Thursday night.
While it would be awesome to see Tiffany live to fight another week in the Big Brother house because, drama, there is no conceivable way for her nomination of Day to even make a difference at this point. True, she was always going to be a target eventually by Paulie and his other followers, but that doesn't mean that anyone wants to get rid of her just yet.
Da'Vonne has played a strong game so far this season, and while Paul is plenty right about her bringing a certain level of drama to the house, she's also been someone who can flutter from alliance to alliance and group to group safely, never being in real danger of being voted out of the house. And now, even though she's on the block against Tiffany and Natalie, let's be honest — it doesn't mean anything.
Tiffany nominating Da'Vonne on Big Brother 18 was a big move and one Tiffany kind of had to make at this point, but it isn't going to save her from being voted out of the house. From the get-go, Natalie had only ever been a patsy, put up on the block just to have someone there, so she's never been in real danger. But when you compare Da'Vonne and Tiffany, Da'Vonne has never been in danger either. The house hatred for Tiffany is much too strong.