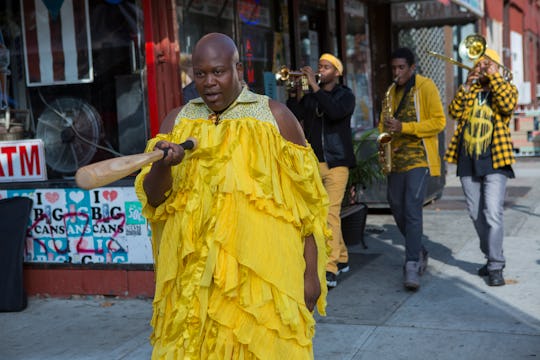 Eric Liebowitz/Netflix
Titus' 'Lemonade' Parody Is Everything You Wanted It To Be
Even though it turned out that Mikey wasn't cheating on Titus and was instead just being the innocent, unknowing Mikey that he is, in the end Titus decided that breaking up would be best for both of them. But this wasn't before Titus' Lemonade parody on Unbreakable Kimmy Schmidt began and basically took over the episode, turning out to be even better than his Season 1 music video for his original song, "Peeno Noir." After Titus left the apartment to go "Lemonading" with his baseball bat, there was even the introduction Beyoncè had in her concept album, Lemonade. But instead of having the budget to submerge himself in a room filled with water, Titus definitely got creative with a Barbie doll instead.
Somehow, it still worked. And honestly, it was so good and elaborate that it gave me goosebumps. They definitely didn't give Titus a quick scene to pay homage to Beyoncè's legendary album, but instead found plenty of ways throughout the second episode of Season 3 to keep coming back to it, showcasing his and Mikey's sad breakup. Unfortunately, though, breaking up with Mikey was the most grown up thing Titus has done in a long time. In order to spare himself the pressure of being someone's first ever boyfriend and to give Mikey the chance to see what else is out there, he broke it off.
The ending of the episode, which again was another tribute to Lemonade, was somehow even harder to handle though, with the faux home movies of Titus and Mikey together. I mean, I know it's just a half hour comedy show, but it was still legit kind of sad.
Does this mean the permanent end for Titus and Mikey on Unbreakable Kimmy Schmidt? While Titus was "Lemonading" and telling Mikey that he "better call Bucky with the good hair," it was still all leading up to a sad breakup between two adorable characters. But if it was for the best, maybe this means that there's room for Mikey to return somewhere down the line, proving that even after dating other guys, Titus is the only one for him.
If their breakup was what it took to give us Titus' Lemonade parody on Unbreakable Kimmy Schmidt, though, then it may have been worth it. No one else could have pulled it off like Titus did and since Season 2 was left without an original song to top Season 1's "Peeno Noir," getting Titus' Lemonade parody more than made up for it.