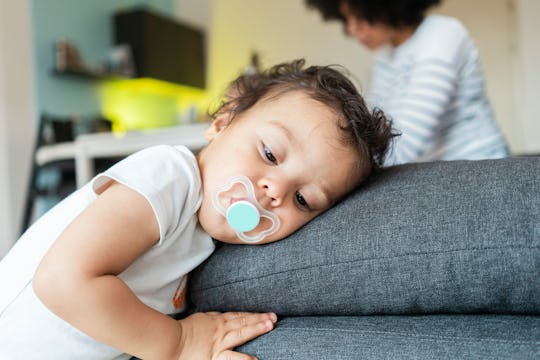 Vesnaandjic/E+/Getty Images
These 20 Toddler Sleep Red Flags Could Signal Trouble
When you finally get your baby to sleep through the night consistently, it feels like you've conquered the absolute biggest childhood sleep challenge of all and you no longer need to worry about your kid's sleep habits. Unfortunately, these 10 toddler sleep red flags might be waiting around the corner, ready to rear their ugly heads and throw you for a loop long after your baby learns not to wake you up five times a night.
"When toddlers are tired, emotions are heightened," in-demand sleep coach Natalie Nevares tells Romper in an email. Depending on your child's emotional skills, typical overtired behavior might range from "unpleasant to unbearable," Nevares says.
Normal, overtired toddler behavior is generally nothing to worry about, Nevares says, especially if it doesn't happen very often. "But if a formerly great independent sleeper suddenly stops sleeping well," she says, there are a few red flags to look out for. Some behaviors can point to deeper issues that deserve the attention of a medical professional or sleep consultant. Knowing what to look for can help you identify toddler sleep problems before they make a permanent impression on your child's sleep habits or take a toll on their health.
This article was originally published on