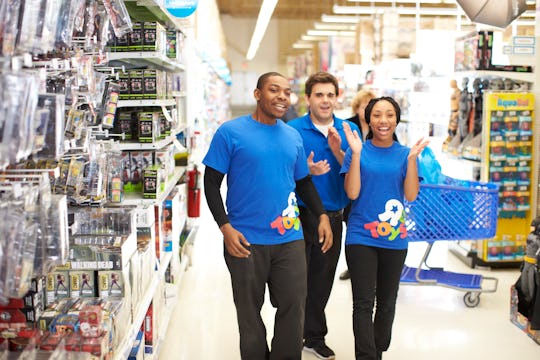 Photo courtesy of Toys "R" Us
Toys "R" Us Is Hiring For Your Childhood Dream Job
Some jobs transcend the mundanity of the 9 to 5 grind so completely that they must exist in the imaginations of kids and adults alike. There's the fantasy of securing a role as a professional food critic, gobbling up divine meals at the world's best restaurants for free. There's the secret lifelong goal of cruising all across the United States in Oscar Meyer's Weinermobile. And now, truly, Toys "R" Us is hiring for your childhood dream job, and this is not a drill. If you spend your days tethered to a desk chair and glaring at a computer screen when you'd much rather get paid to get up and play, dust off that résumé: You just may be one of the beloved toy retailer's next toy demonstrators.
Nostalgic onetime customers and harried parents may have been worried that Toys "R" Us was on the brink of closing for good when news broke Monday that it had filed for bankruptcy protection. But Reuters reported that the chain's subsequent announcement that it would hire 12,000 part-time workers indicates that it's pushing to ensure that the holiday sales rush will help it chip away at its massive debt. Yes, the addition of the most whimsical and fun position of those new jobs, that of toy demonstrator, may be a direct response to the fact that the company is $5 billion in debt, but it still sounds like a freaking blast.
According to a Toys "R" Us press release, toy demonstrators are "the big kids at heart" and their job responsibilities are pretty darn straightforward: "unboxing and playing with toys, and allowing kids and eager gift givers to test them out."
Honestly, that sounds like a welcome relief from toiling away at a keyboard, or even from hanging out at home playing with toys with your own kids. After all, toy demonstrators get paid to play, and the official announcement that this job has hit the market doesn't mention anything about having to clean up after the long days of messing around with the hottest toys of the moment. Because this is a childhood dream job, it's only appropriate to assume that someone else takes care of that boring, unglamorous aspect of the whole enterprise. Nope, if I were a toy demonstrator, I'd hightail it right out of there after I was done showing the little ones how to use popular toys like, for example, the MGAEntertainment LOL Surprise Fizz Factory or the LittleBits Star Wars Droid Inventor Kit. Just spitballing and planning here.
Of course, toy demonstrator isn't the only part-time seasonal position for which Toys "R" Us is hiring. According to the press release, the retailer — which currently employs about 64,000 at it's 1,600 locations — is also seeking cashiers, sales associates, stock associates, and order fulfillment associates to work in its stores and distribution centers. (Simply follow this link to browse all the job listings and apply.) Unlike with the others, toy demonstrators will be hired only in "select stores nationwide."
One of the Toys "R" Us stores hiring a toy demonstrator is located in Pleasant Hills, California. To land the job with the "champions of play," applicants should be "passionate," "have a positive energy that is contagious," as well as be 100 percent at ease with public speaking, according to the job description.
If that sounds like you, it's probably a good idea to apply ASAP, because this job is sure to be a hot one. And those lucky few who do become toy demonstrators will certainly have an edge on all the other parents trying to figure out what toys their kids will love the most once the holidays roll around.
Watch Romper's new video series, Romper's DoulaDiaries:
Check out the entire Romper's Doula Diaries series and other videos on Facebook and the Bustle app across Apple TV, Roku, and Amazon Fire TV.