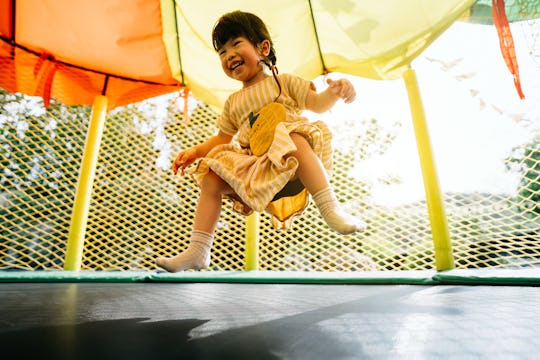 d3sign/Moment/Getty Images
Trampolines Are Selling Out *So* Fast, But Here Are 5 You Can Still Buy
With kids stuck at home driving their parents up the wall with their pent-up energy, there's never been a better time to invest in a backyard trampoline. Right now, across the United States, big box vendors of the gymnastic springboards are racing to keep up with the demand... but as many a parent has discovered, these bouncy surfaces are nowhere to be found. Indeed, trampolines are sold out almost everywhere, but there are still a few available online.
Now, if you're having visions of a giant 20-foot wide tramp big enough to throw your entire brood in for hours at a time, let me manage your expectations. Those classic family-size trampolines disappeared weeks ago for the most part. Oh sure, there are a few left (see below), but smaller jumpers are much more widely available at the moment. Either way, no matter what type of trampoline you're looking for, you'll definitely want to get it as soon as possible. (And speaking of fun summer products selling out, if you haven't picked up an inflatable pool yet, you'll probably want to order one of those too. Like, yesterday. The same goes for swing sets and probably any other backyard-y type item you can think of, so get shopping. Even the items listed below might not be available in a few days.)
We only include products that have been independently selected by Romper's editorial team. However, we may receive a portion of sales if you purchase a product through a link in this article.